Business Profile: Wood and Fire Pizza, Pleasantville
We are part of The Trust Project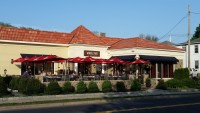 A'Mangiare was a fixture in Pleasantville for almost two decades, but after closing the doors to that restaurant, owner Freddy Dolgetta has decided to bring a new restaurant to the village.
Wood and Fire Pizza opened to the public Apr. 16, but it's not the first of its kind to be opened by Dolgetta. The restaurateur was in the process of creating a similar establishment in Del Ray, Fla., after having sold all A'Mangiare restaurants except for the Pleasantville location, which had originally been opened by his father.
Dolgetta said his father was having trouble managing the old restaurant on his own, so he got friends and family on board to help open Wood and Fire in just six weeks. The new restaurant features a menu that may be a bit smaller than most other local eateries, but Dolgetta said every selection, from pastas to the cheese used on pizza, is made from scratch.
"We've got a hot new chef out of culinary school who studied in Tuscany, so we went a whole different route than what we used to be," Dolgetta said.
In addition to the wood-burning stove, Wood and Fire has outdoor patio seating and offers brunch, happy hour and a pizza bar featuring authentic Neapolitan-style pizza.
Dolgetta said he devised the concept Wood and Fire when he noticed that wood burning was becoming a hot trend in the food industry. He wanted to create a place that would be "out of the box" and different from A'Mangiare, which had five locations during its years of operation. He also wanted Wood and Fire to offer high-class food and atmosphere while still remaining family friendly.
The most difficult challenge Dolgetta faced in opening the new restaurant in a familiar location was making all of the interior changes in just a month and a half. In that short time span, he remodeled the entire restaurant, developed a brand-new menu and brought in new staff and computers.
"It was definitely challenging, but we got through that hurdle and it's getting better every day," Dolgetta said.
Having been open for less than a month, he is already looking toward the future. With locations in Pleasantville and Florida, he is hoping to eventually see Wood and Fire become a national chain of restaurants.
As for the Marble Avenue establishment, Dolgetta hopes that his dad will be able to remain part of the restaurant for as long as possible and that Wood and Fire will be a staple in the village for years to come.
"I want to be here for another 20 years; that's my goal," Dolgetta said.
Wood and Fire is located at 59 Marble Ave. and is open daily from 11 a.m. to 10 p.m. For more information, call 914-747-2611.