Business Profile: Uncorked, Baldwin Place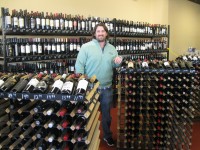 Somers native Brian Moss never originally planned to make a career of owning wine stores.
"Sheer circumstance got me involved in it," Moss said last week. "I like the world of wines. It wasn't a plan. I didn't go to college saying I hope to open a liquor store."
Eight weeks ago, Moss opened Uncorked in the Somers Commons Shopping Center in Baldwin Place, near the Westchester/Putnam border. His first liquor store was located in Eastchester.
Uncorked, which Moss said was named based on uncorking bottles of wine, is located in the building that formerly housed Route 6 Wines and Liquors. Moss is continuing with store renovations. "It's a long road and an expensive road," he noted.
Moss, who currently resides in South Salem, said his store offers a large selection of wine and other spirits. "I wouldn't say we specialize in anything. But we try to have everything that people want," he said. "If you come in here looking for anything, hopefully we have at least some options for you."
Uncorked offers wine and liquor from domestic and foreign sources, including Argentina and Spain and "little wines that people don't know about," Moss said.
"We try to give something that people can't get in other places," Moss said.
Moss said he tastes wines and works with small producers and distributors. Particularly popular in 2016 are brown liquors, including whiskeys, scotches, and bourbons, Moss said, adding wines from South Africa are also becoming popular. However, many people have brand loyalty. "People who've been buying the same wine for 20 years are still going to buy the same wine in 20 years," he said.
Moss offers wine tastings on a regular basis, generally on Fridays and Saturdays. He said he personally drinks tequila, rum and "a little bit of everything" when it comes to wine, mostly California wines and blends.
Moss said he will offer assistance for customers who do not have much knowledge of wine. "Generically speaking, I just say to try something. A lot of people have no idea what they want," he said. "I'll pick an inexpensive bottle of wine that I like and I know people like and I'll say try this. And then once you have a starting point they can say when they come back, that was either too heavy, too sweet, too light, too this, too that or not enough of this, not enough of that."
Moss said he can then recommend other wines that would suit his customers' tastes with lower cost wines. Once they find what they like, he will recommend higher priced wines that would fit their tastes.
"My goal in this business is to be in between a big and a little store," Moss said. "I want people to know they can come here and say, 'hey, I've never had wine. what do I do?"
Moss added he would like Uncorked to become "a boutique, but a boutique that has a lot to offer."
Uncorked is located at 80 Route 6 in the Somers Commons Shopping Center in the Baldwin Place section of Somers, near the Westchester/Putnam border. For more information call 914-621-1800 or send an e-mail to uncorkednorth@gmail.com