Business Profile: Twist Frozen Yogurt Bar and Sweet Shop, Yorktown Heights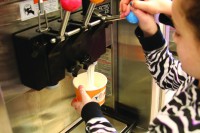 Michael Daly is an Allstate insurance agent in Yorktown, but when he was growing up in White Plains, he dreamed of being an ice cream man. With a little help from his wife and friends, now he is.
Daly, along with his wife Mary Beth, and his friends Kevin and Teresa McKenna have opened up Twist Frozen Yogurt & Sweet Shop on the lower level of the Roma Building in Yorktown Heights.
"Since I met the man, all he wanted to do was open up an ice cream shop," said Mary Beth Daly. "He wanted to be an ice cream man. He is an insurance agent, so ice cream is a little more fun."
The only ones who may be more excited than Michael Daly are his and Mary Beth's three children and the McKenna's two children.
"We have definitely become the cool parents," said Mary Beth Daly.
The brightly colored store located at 2022 Saw Mill River Road is as visually stimulating as the treats are appetizing.
There are a dozen flavors to choose from, including Outrageous Orange, Red Velvet and Cake Mix yogurts, as well as both vanilla and chocolate soft-serve ice cream.
"There is something for everyone," Daly said. "The possibilities really are endless of what you can do or what you can make. We have so many flavors. Then there are all of the toppings. There are so many choices."
With the self-serve style, customers can mix and match the flavors to create an assortment of pairings.
Then it is off to the toppings. Twist offers over 60 wet and dry toppings to choose from. There is fruit, sauces, cheesecake and chocolate chips and other candied pieces.
Additionally, Twist has a candy station where you can bag the treats for later or add it to your frozen snack.
When you get to the register, everything is weighed and sold by the ounce.
Since the store opened last week, buzz around town about the store has caused it to already be the go-to place in Yorktown and Mary Beth Daly would not have expected anything else.
"I am not surprised by how popular we have become already," she said.  "We have taken our kids to other places like this. It is fun to make it yourself.  You can put all of the toppings you like on. You can load it up with toppings."
The Dalys and the McKennas, both from Somers, have been working on this project for the past year.  One of the hardest things to find was the right location. Then they saw the Roma Building.
"We just knew it would be popular with the high school down the block and being in the center of town," said Daly. "My husband's office is in Yorktown, so we were very familiar with the community."
Even before they officially opened their doors, the community was knocking at the door.
"On Thursday night, before we opened on Friday, the girls lacrosse team stopped in and wanted treats after their game," said Daly. "They were getting their snacks, as we were finishing our to-do lists."
Twist will be offering loyalty cards, offering a free six-ounce treat after 10 purchases.  It will also be offering deals on its Facebook page (facebook.com/twistfroyobar) and on Twitter (@TwistFroYoBar).
Twist will be open seven days a week 11 a.m. to 10 p.m.  For more information call 914-302-2600.