Business Profile: Triple B BBQ, Brewster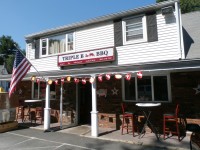 As far as Bob Soto is concerned, the longer he cooks his food, the better it will come out. Whether it means beginning his cooking the night before or taking a certain item off the menu rather than rush it to be ready by a certain time, Soto understands patience is a virtue, even for a barbeque joint.
For ten weeks now, Soto has been cooking slowly and meticulously for his new restaurant, Triple B BBQ, which is in Brewster. The three B's stand for barbeque, burgers and baked goods, offering a bit of everything for customers looking for authentic and fresh food cooked daily. Simply put, the cash-only establishment is all about the meat.
The pork butts are cooked for 16 hours, the brisket for 12 hours and the chicken and ribs take at least five hours. Meats that are cooked all feature a pink smoke ring and while it may not look fully cooked, it's an indication of how carefully the food is prepared.
Soto has done catering for countless years and his BBQ is always well sought after. Some restaurants would even hire him—and still do to specifically cook BBQ foods. He's done everything from a pig roast to bringing a smoker on location to cook chicken or ribs.
While catering was one way Soto shared his BBQ gift to the rest of the region, he still wanted to eventually open up his own place. That was ten years ago.
"I had friends that loved it and places that loved it and everybody always asked me where's your restaurant, where's your restaurant, so I figured it was time," Soto said. "Everybody was happy with it so I guess we could make a go of it."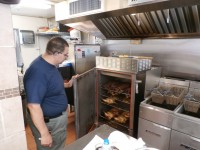 In a serendipitous turn of events, Soto found the location of his BBQ restaurant after he helped the owner of Zegarelli's Pizzeria move down the street to a larger spot. Zegarelli's used to be situated where Triple B BBQ is now, and Soto is renting the spot. While it's not huge, Soto said it fits the eatery's needs.
"I thought it was a good spot," he said. "It'd be perfect for doing some good BBQ, not too big, not too small."
Soto said he's gotten plenty of positive feedback and hopes to see that continue. Opening up right around Memorial Day—the unofficial start of summer—Soto has catered many parties and walk-in traffic also has steadily increased. Soto said it's a lot of work, but he said it's absolutely worth it.
"It's a dream come true and hopefully it makes it," Soto said.
Triple B BBQ is located at 176 Fairfield Drive in Brewster and its number is 845-278-7227. Its website is http://tripleb-ny.com.