Business Profile: Tompkins Landscaping, Putnam Valley
We are part of The Trust Project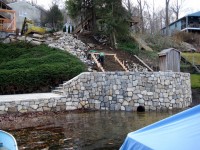 Before you can maintain something, you have to create it. Tompkins Landscaping in Putnam Valley transforms people's property—either residential or commercial—from a basic yard into the owner's vision. The company serves clients in Putnam, Westchester and Dutchess counties.
The key to the operations, according to Stacey Tompkins, the vice president of Tompkins Landscaping, is her husband Mark who started the company over 30 years ago.
"He began by cutting lawns and even at an earlier age, he used to jump on machines that his neighbor owned and taught himself how to run heavy equipment," said Tompkins. "Initially, Mark started the company as a way to earn his own money. However, he has always had a passion for solving problems and working hard to transform his client's property in a positive way."
As his skills and knowledge increased over the years, Mark Tompkins found he had a talent in the use of earth moving equipment.  Sculpting the land with a larger and more sophisticated fleet of excavators, dump trucks, loaders, and back hoes as the years passed.
"The company has evolved over the past 30 years, and we don't cut lawns anymore, nor do we do plantings unless it is a large scale project," said Stacey Tompkins. "We are a full service landscape construction corporation."
Tomkins Landscaping works on all types of excavation from new roads to an addition on a home. It can install and repair all septic systems (licensed in Putnam County), handle any type of drainage issue.
"In the last few years, water has become a bigger problem with increased precipitation levels," said Tompkins.
The company also does all types of masonry, stone walls, patios, walkways.
Additionally, Tompkins Landscaping does hydroseeding, which is a relatively new way to seed a lawn.   Hydroseeding is a planting process whereby a mixture of seed and mulch is sprayed over prepared ground in a uniform layer as an alternative to the traditional process of seeding.
"It is a misconception that anyone can operate a machine and dig up dirt," said Tompkins.  "A licensed and insured contractor with extensive experience is more likely to provide the value and quality that the customer deserves."
Customer service is a vital aspect of the Tompkins' business.
Tompkins Landscaping is client focused and does not believe in a cookie cutter approach, according to Tompkins.
"Unique problems require customized solutions, and Mark is an expert at putting together a creative plan of action that is easily explained, and financially reasonable to the customer," Tompkins said. "Many of our clients have worked with Tompkins for 10, 15, and 20 years.  That is extremely rare in our industry. We look at every customer as a long-term client and focus on the best quality job each and every time."
The company prides itself on having skilled crews that are also focused on providing the highest quality work possible, with the least amount of stress to our residential and commercial clients.
"Our ability to take our clients' visions and transform them into reality, coupled with our unique approach to customer service, allows Tompkins Landscaping to stand apart from the competition and find lasting solutions, rather than implement quick fixes," Tompkins said. "Our nearly 100 percent referral rate is a testament to the quality of our work."
To ensure the highest grade of customer service, the company performs extensive post-job interviews with the clients. "We now collect client stories on a regular basis to help us understand what we have done well, and where we can improve," Tompkins said. "At Tompkins Landscaping, we are committed to not being an average landscaping/excavation company."
For more information about Tompkins Landscaping or to view a portfolio of its work, visit www.tompkinslandscaping.com or call 845-528-8513.
Photo caption: Tompkins Landscaping is a full service landscaping/excavation company that can transform your property.