Business Profile: Three Dog Bite, Croton
We are part of The Trust Project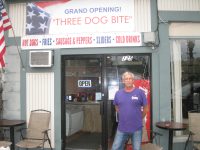 Croton resident Eugene Parrotta is a big fan of the rock group Three Dog Night, which was in its heyday in the late 1960's and early 1970's.
So in tribute to the band he decided to name his new restaurant Three Dog Bite, which specializes in hot dogs and sliders. "Obviously, I'm not the youngest of hot dog vendors," Parrrotta said last week, adding he likes nearly all of the band's songs.
Three Dog Bite was opened in April by Parrotta and one of his three daughters, Nicole, who lives with her father. He resides one block away from his new eatery.
Parrotta, who will turn 70 in January, owned a hot dog wagon in the Bronx 25 years ago and has been working in various phases of the food business for many years and also worked as a laborer in the construction field.
Three Dog Bite operates out of a building that needed significant renovations, Parrotta said. He was assisted in opening his new business from a state program to set aside six percent of state contracts for disabled veterans, Parrotta said.
Three Dog Bits specialized in a variety of hot dogs, including the specialty of the house that is named after the restaurant itself that includes three dogs on a single hero bread with two toppings of choice that "becomes a hot dog hero." Parrotta said. Other specialties are sliders and sausage, peppers and onion wedges.
"These are things that as a kid I always liked," said Parrotta, who grew up in the Bronx.
Burgers and dogs are far from Parrotta's only passion; he has been dedicated to the welfare of fellow military veterans for years. He is the CEO of the New York Downstate Chapter of Purple Heart Homes, the non-profit organization that provides projects to make disabled veterans more comfortable in their homes, such as providing chair lifts or ramps.
A portion of Three Dog Bites' profits goes to Purple Heart Homes.
Parrotta was awarded two Purple Hearts for his service in the U.S. Army in the Vietnam War, but he declined to provide details about the two incidents. "I was in the wrong place at the wrong time twice," he said.
Three Dog Bite is located at 125 Grand St. in Croton. For more information, call 914-862-0347. It also has a Facebook page.