Business Profile: THEX[TRA]CHANGE, Mahopac
We are part of The Trust Project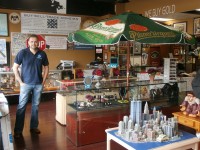 On the weekends, it's almost a sure bet Louie Maiello is scouring local tag sales around the Lower Hudson Valley region in search of items and mementos not wanted anymore. He's done it for years and has always enjoyed it.
"I always had a infatuation with going to tag sales on the weekend, finding stuff for really cheap and being able to sell if for a couple bucks," he said.
After he hits up several yard sales each weekend, it goes straight to his own store, THEX[TRA]CHANGE in Mahopac along Route 6. Maiello has had his own store open for exactly a year now, and when a costumer enters it, they can expect to see a wide array of useful items and collectibles. From bikes and musical instruments, to electrical gadgets and jewelry, Maiello could be considered Putnam County's own version of Pawn Stars.
Comparable to the reality TV show that is on the History Channel, Maiello buys, sells, and trades goods daily, always looking for fair exchanges that'll result in a bit of profit for him.
When going to tag sales, Maiello said the best items he usually picks up are cell phones and jewelry that people will sell for relatively cheap prices. In most cases, people don't even realize how valuable the items can be and even if they do know, simply want it gone.
He recalled the most treasured tag sale item he took off someone's hands was a Coca Cola cooler in "immaculate conditions" from the 1940s or 1950s. The owner wanted it out of his basement and Maiello was happy to take it off his hands.
"It ended up being quite profitable," he said.
When people come into the store looking to sell items, Maiello said he's content to buy iphones or other technological gadgets all day. Anything associated with Apple usually makes Maiello happy—and money.
But people will usually come in with a variety of things that can lead to interesting negotiating between Maiello and the seller. When friends of Maiello come into the store and witness his trade talks in action, they tell him he looks like he's on a game show.
Maiello never gives the first number when discussing a sale with the client. From that first number offered, Maiello makes the assessment of the sale based off of the condition it's in and how rare the product might be.
"I try to be fair, I try to give clients a reasonable price for what they want," he said.
Maiello was born in the Bronx and now lives in Dutchess County but he spent many years growing up in Mahopac and has a good reputation in the community. On July 31, he celebrated his one-year anniversary. And now, he's looking to expand and possibly open another store.
Right now, an old time barber chair, a signed poster of the Godfather, a Star War figurine and a few designer handbags all are among the most valuable assets in the THEX[TRA]CHANGE.
As Maiello said, "I don't like holding onto things, as quick as I get it, I like to sell it."