Business Profile: The Putnam Diner, Patterson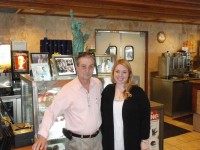 When customers walk into the Putnam Diner, nothing makes owner Steve Hanziargiriou happier than to hear those regular patrons say the diner is like "their home, away from home."
For more than a decade, the Putnam Diner has served Patterson and the surrounding region, making both regular customers and those traveling through Putnam feel welcomed with homemade food and service that make patrons think they're pulling up a chair at their own dining room table.
After Steve emigrated from Greece, he began working at a diner in 1971 washing dishes. Even as he was scrubbing away, his love for the fast pace work made him hope to one day own his own diner.
He worked his way up from a dishwasher, to a cook and continued to save money along the way, determined one day to never have a boss to take orders from–only hungry customers.
He talked with his brother and uncle, and finally decided to take the risk.
Steve and his brother opened both the Carmel Diner 22 years ago and the Putnam Diner 16 years ago. Steve recalls how good it felt to be in the front of the diner on the floor interacting with customers rather than in the back where the kitchen is located.
Now, Steve only focuses on the Putnam Diner with his daughter Rena in order to cut down on the workload and travel between Patterson and Carmel.
"It's always been family oriented, family run, a family business," Rena Hanziargiriou, who came on board two years ago, said.
One difficult part of the job is the long hours, but that exhaustion is erased when the two hear from complimentary customers how they always feel at home. Steve said there's a certain satisfaction when costumers tell him how great the food is and how well the entire staff treats them.
"We take pride in what we do," Rena said. "We make everything homemade."
Located on Route 22, Rena said the eatery gets plenty of travelers coming and going, especially during the holidays.
But the surrounding residents in the community are the hallmark that makes the diner special. There are regulars that come in most days or at certain times during the week. In fact, if a certain person or family doesn't come in for a day or two, Steve and Rena feel like something is missing.
"We ask, 'Where were you, you weren't here yesterday, is everything OK,'" Rena said. "We are very close with the customers here."
Steve, as is obvious from talking with him for a few minutes, is always appreciative of what the customers have done for him and his family. He knows this diner is going to continue to be a longtime establishment because of them.
"I want to thank all the customers that come to the Putnam Diner and enjoy their meal and from the bottom of my heart I want to say thank you to them," Steve said. "And God willing, we'll be here for a long, long time to serve them."
The Putnam Diner is located on 2600 Route 22 in Patterson. Its phone number is 845-878-8000.