Business Profile: The Music Cottage, Brewster
We are part of The Trust Project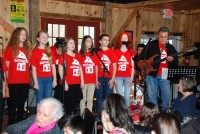 For more than 20 years, George Krzyzewski used to travel around the area giving music lessons to a wide net of students. Since 2011, those students have been coming to him.
George and Lauren Krzyzewski opened up The Music Cottage in Brewster close to five years ago and since then, have only seen a steady incline of students attending the main street location. Offering tutelage and expertise for various instruments and levels, The Music Cottage is the sweetest sounding business on the block.
"He was reaching a point where he was tired of having students one place, one day and different place, another day," his wife and co-owner Lauren said. "(This is) something we always talked about doing."
The Krzyzewskis have twelve teachers from different music backgrounds and offer summer programs, private lessons, workshops, and showcases. Though the cottage looks quint from the street, it has five music rooms, as well as a small section for musical items aimed at students for sale.
When the cottage first opened, it had about 40 students already lined up to take lessons there that George had tutored. Now, there are about 200 young musicians that walk through the door during the year.
"It sort of evolved organically," Lauren said.
George and Lauren both take care of certain sides of the business. George, who is a guitar and base player, handles the music side of things and Lauren, a former project developer and marketer, handles the business side of things.
The couple's son and daughter also get involved with The Music Cottage at various points. Lauren notes how much fun it is to see the entire family part of the business in one form or another.
Students eventually and hopefully build up to a show as they progress. Each student must be studying for six months to participate in a showcase. Recently, many students performed at Daryl's House in Pawling, which is owned by Rock N' Roll great Daryl Hall, who was part of Hall and Oates.
"We're really into getting kids to perform, to play music with others," Lauren said. "We feel like that's a part of playing music, not just going into your lesson and playing in your room every week."
Finding kids interested in music isn't very difficult. The area has a strong emphasis on performing arts and music, but before The Music Cottage, a Brewster Chamber of Commerce member, there was nothing else really in Brewster for rising musicians outside of the music department at Brewster High School. Instruments like guitar, base, drum set, piano, and a couple others aren't offered in school.
"We have kids that either want a little extra help with an instrument that they're studying in school or they're more advance and they'd like to take it a little further," Lauren said.
 The Music Cottage is located at 177 Main Street in Brewster and its phone number is 845-363-1456.