Business Profile: The Burger Barn, Somers
We are part of The Trust Project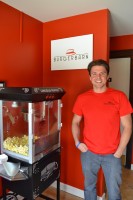 The burger has a special place in the hearts and stomachs of Americans, but why?
Somers resident Justin Tesone thinks he knows the reasons for the sandwich's status as an American staple. He owns The Burger Barn, which opened in Somers on April 15. The restaurant servers not only the traditional beef burger, but it also offers vegetable, salmon and turkey burgers.
"I think it caters to all demographics," Tesone said at his establishment last week. "It caters to all different generations, from young to old. And it's affordable. Times are tough. You have to adjust. It's also a feel good food."
Tesone opened The Burger Barn in the same Route 100 location as his former restaurant, Seasons, which operated for eight years. Tesone, who also ran restaurants in Manhattan, said a change in the format of his restaurant was needed.
"Over the last three years of Seasons, people had been ordering the American comfort food. This is what the population wanted," he said. "So we kind of shifted over to what our guests really, really wanted. In this economy people can't afford fine dining anymore so we went down the route of American casual."
"Fine dining has become more of a treat where you treat yourself and your family once a month," Tesone said.
The Burger Barn's menu is dominated by burgers in a wide variety of forms. There is one hamburger that is particularly popular, Tesone said. "The burger that's really taken over as the signature burger is the Goat Burger, which is goat cheese and arugula lettuce" on the burger. The Goat Burger is also Tesone's favorite burger.
The Burger Barn serves ground Angus beef for its hamburgers. The eatery's vegetable burger consists of black and white beans, spinach and mushrooms.
All of The Burger Bar's burgers are handmade, Tesone said. "When you do the handmade air gets through to get a juicier, fresher burger," he explained.
Another feature of The Burger Bars is its bar tap, which features 10 beers and two wines.  "We tried staying, for the most part, for the bulk of it, as local as possible," Tesone said.
The Burger Barn, which has both indoor and outdoor seating, has a seating capacity of 133.
Tesone said he has devoted himself to the restaurant business because "I love the interaction with people. That's what it really comes down to."
The Burger Barn has its own theme, which is "live and let loose," Tesone said.
Tesone said he wanted his patrons to "come in, forget about any negativity that's going on in their life, come in, relax and just have a great American comfort meal."
The Burger Barn is located at 289 Route 100 in Somers, across the street from IBM. For more information, call 914-276-0600 or visit theburgerbarn.com.