Business Profile: The Art of Healing, Patterson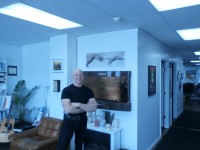 Most former state police officers don't go into a field of holistic healing, but most people aren't like Bill Bubenicek, the owner of The Art of Healing. In fact, he believes his past career and current one match up more seamlessly than how it may appear.
"People see it as a huge transition, how do you go from one to another as if they were from opposite sides of the spectrum," Bubenicek said. "But I don't really see it that way because my core beliefs and thought process haven't really changed."
And since Bubenicek started The Art of Healing, he's proven to be a renaissance man, brining in approximately 1,200 clients since he opened in 2010 on Front Street in Patterson. A strong believer that "physicians don't heal diseases, your body does," Bubenicek has offered a different method for healing that residents haven't seen in Putnam County and is rare across the Lower Hudson Valley region.
Bubenicek does have some past experience in assisting a sound mind and body. As a New York State police officer for two decades, he was a physical and nutritional trainer, as well as a crisis intervention counselor that would help fellow officers get through difficult times like a shooting or family issues.
Because his father never took care of his body, Bubenicek noted, he decided to be the complete opposite and pay careful attention to every aspect of his overall health.
That health commitment has translated to the people that come to him for help.
When a new client comes in, Bubenicek doesn't just focus on the symptom or ailment, but the body as a whole. He's interested in resolving the "root cause of your issue, rather than treat your symptom." Bubenicek will talk about a client's stress level, their nutrition, how much water they drink, and what medication they might be on. As a former criminal investigator, Bubenicek understands how to get information from a variety of people easily.
From there, Bubenicek and staff can offer a wide range of remedies that don't require a doctor's visit. Massage therapy, acupuncture, ionic footbath detox, Reiki, energy healing, and vitamin D light therapy are just a handful of examples. As a graduate of the Institute for Integrative Nutrition, Bubenicek will also offer holistic nutritional tips.
"I basically reinvented myself and decided this is what I wanted to do," Bubenicek, a Patterson native, said.
The reinvention of Bubenicek has led to success in his second career and continued ambition. Bubenicek hopes to turn The Art of Healing into franchises that stretch from coast to coast and is now beginning to sell a new book he authored called "Bliss on Tap."
What makes this all more impressive is the success was never planned until it got underway.
"I never really considered it," Bubenicek said. "But I'm pretty accepting of what is."
The Art of Healing is located on 1 Front Street in Patterson, its phone number is 845-878-4325 and website is www.theartofhealing4all.com.