Business Profile: The Art of Astrology Offers More than Meets the "Lucky Eye"
We are part of The Trust Project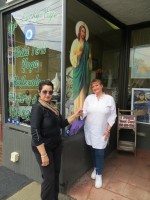 By Jon Craig – If you've ever strolled by The Art of Astrology at 242 Harrison Ave. in Harrison, Elm Street in Rye, or Boston Post Road (Route 1) in Larchmont or Mamaroneck, you may have wondered what goes on beyond those mysterious storefronts decorated with jewels, symbols and saints.
Since much of the storeowner's time is arranged by appointment only, it's sometimes difficult to schedule a Tarot card or psychic reading, Chakra realignment, Reiki therapy or Crystal healing on the spot.
But there is no shortage of work in these trying times, according to Julie Reed, a certified Reiki Master I & II and parapsychologist, who owns the stores. Reed gets assistance from Diane LaVita, who specializes in crystal bowl therapy, offering frequent workshops.
"We're energetic beings in a physical body," LaVita said. "That's why crystals and tones and colors affect us."
It's not surprising, Reed says, that business picks up steam during economic downturns. Her shops thrived in Astoria, Queens, and near Wall Street during in the 1970s, and they are thriving in Westchester County today.
"People are at war with themselves," Reed said. "They are carrying the job in a suitcase. They can't grow. They can't let go. Physically, mentally, they're lost. We help them let go of that suitcase."
Custom-made jewelry featuring the "Lucky Eye" for protection, healing and fashion is sold at the stores as well as spiritual oils, cashmere scarves, purses and sage. Reed offers free initial readings and discounts on subsequent visits. Part of all proceeds go to The Shrine of St. Jude and local homeless shelters. Reed said she makes pilgrimages to St. Jude near Baltimore, Md., every Oct. 28 to light Novena candles for her clients, and to the Shrine of Sainte-Anne-de-Beaupre in Quebec, Canada, on July 26.
Reed has practiced Reiki energy and crystal manifestation work for 44 years. As a spiritual healer, she often donates her time for such clients as White Plains Hospital, Henri Bendel, Saks Fifth Avenue or Bloomingdales, as well as weddings, parties, fund-raising events or other private affairs. She's done readings at Winged Foot Golf Club in Mamaroneck, Larchmont Yacht Club and elsewhere.
For more details, go to www.awakenfair.com, www.newagebeginnings.com or www.spiritualhealingspa.com. Appointments can be made by calling 914-835-7015 or simply stop by one of their stores if you are feeling lucky, or in need of some luck.
"It's like a swimming pool,'' Reed said. "Come when you feel like being cleansed. You can dive in and leave."