Business Profile: Tech911, Brewster
We are part of The Trust Project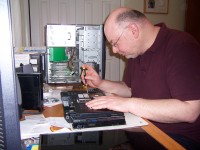 For close to a year, Tech911, located in Brewster, has brought the high end computer expertise of owner Jeff Shulman to individuals and small businesses with computer problems or who are in need of help setting up their wireless network.
Previously Shulman, working for a company in Connecticut, created hardware and software for major Wall Street firms.
"We actually built our own touch screen computers," Shulman said. "Touch [capability] now is on everything [tablets, smartphones] but it wasn't 25 years ago. So we had to make our own touchscreens, because on the trading floor there was a limited amount of space, just for the screens on the wall. So I built those systems."
These days, the work is decidedly less complicated.
"I go to people's homes and small businesses," Shulman said. "I've done everything under the sun for them. I fix anything from printer problems to network problems to the computer itself. If the computer doesn't start, if someone can't find a file, if someone accidentally deleted something, helping people set-up a backup system, etc. I don't want to come off as cocky, but I've never encountered a problem that I couldn't solve for a customer."
A common complaint is that the computer is running slow.
"Hard drives actually die in two ways," Shulman said. "Sometimes it's mechanical. But sometimes hard drives die slowly. It's called getting bad sectors. The little arm inside the drive writes the information into sectors and sometimes the sectors go bad, which can slow down your computer. The other thing is that it could be a virus."
According to Schulman another common problem is that people end up loading things onto their computer that start up on their own and take away from the computer's speed.
"Usually what it is, and people don't realize this, over time they just start adding more and more programs, especially through downloads, on to their computer and these programs force themselves to start up when the computer starts up," Schulman said.
If the hard drive physically breaks, the solution is far more difficult and complex.
"At that point the only thing you have left to do, there are companies that you can mail your hard drive to that open it in clean rooms, special, dust-free rooms," Shulman said. "They will actually open your hard drive and fix it. Usually at that point they will make a copy of your information on to a DVD. It's very expensive, extremely expensive. It usually starts at $400 or $500 and goes up to thousands of dollars."
The expense is the reason why Shulman urges everyone to back up their hard drive.
For Schulman every call is different and he never knows what to expect.
"When I get a call, I have no idea what is going to be there when I walk through the door," he said. "Usually it's, 'My computer won't start' or 'I can't get online' or their laptop won't connect to my wireless modem. Sometimes it can be really simple. Someone once called saying their mouse didn't work. They had a wireless mouse. The battery had died, so that took two minutes. Others times, a wireless problem can take a while, because there could be a lot of factors as to why it's not working. So it really varies."
Tech911 can be contacted at (914) 979-1911 or through its website, tech911help.com.
By Larry Miles