Business Profile: Team Moljo Strength and Conditioning, Putnam Valley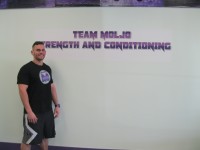 Putnam Valley resident John Moljo, a graduate of Putnam Valley High School, has been doing athletic training and providing training classes in the local area for many years.
Most of his clients live locally, in Putnam Valley and surrounding towns in northern Westchester and Putnam, and when an opportunity arose, Moljo decided to open Team Moljo Strength and Conditioning in Putnam Valley.
"I really, really felt in my heart that the town needed something like this, someone who is passionate about working out," Moljo said last week. "There was nothing convenient around for us and for the Town of Putnam Valley."
Though a grand opening ceremony for Team Moljo was held on May 2, the business actually opened its doors on February 1. "It took a couple of months to get everything up and running," Moljo said. "We wanted to wait for some nice weather."
Several types of athletic training are offered at Team Moljo. "We have a bunch of classes that are geared toward all fitness levels," Moljo said. "We have classes geared toward student-athletes. We offer programs that are geared towards weight loss, sports performance. We vary among trainers but the most part we offer a little something for anyone that walks through our doors and just has a passion for achieving any fitness goal."
Personal, semi-private (two people) and group classes are offered at Team Moljo. There are also general memberships available for those who want to use the equipment on their own without classes, Moljo said.
`"I have actually benefited more non-athletes than athletes," he said.
Sports have been an important part of the life of Moljo for years. In high school he was a lacrosse and football player. Athletic training has also played an important role since his high school days, Moljo said.
"During high school I struggled with weight and to continue playing sports in high school I had to surpass that struggle," he said. "I had to kind of get my life together, focus on exercise, focus on weight loss."
Moljo said he wants to share his love for fitness and a healthy lifestyle with his clients. "It's beyond a passion. I think it's a calling." he said. "I was fortunate enough in life at a young age to realize that I was put on this earth to serve other people and help other people and to prove to them that they're far more capable than they think. I found an industry I could walk into and kind of have that impact every single day."
Team Moljo Strength and Conditioning is located at 17 Peekskill Hollow Rd. in Putnam Valley in the Putnam Professional Business Park. For more information call 845-603-6280, visit teammoljo.com or send an e-mail to Jmoljo@teammoljo.com.