Business Profile: Spruce Hill Inn, Putnam Valley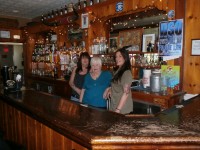 The Spruce Hill Inn has been a fixture in Putnam Valley since the 1930s. Now, it could be closing as soon as next month if it doesn't begin to drum up more business.
Joanie Mitchell has owned the bar along Oscawana Lake Road for more than 20 years of the inn's existence. It's been a welcomed haven for Putnam Valley residents, and a place Joanie has vowed to put her last penny into to keep its doors open. With an assortment of affordable beers and live music every Friday and Saturday night, it's had a good run for two decades under her ownership, but the struggle has grown and the possibility of it closing is becoming stronger.
"We're really at the ugly and it breaks my heart," Joanie said. "I don't want to leave."
Joanie, a lifelong Putnam Valley resident, went to work after the untimely death of her husband. She needed a source of income and a place she could walk to everyday because she didn't drive.
When Joanie told her three children 23 years ago her plan to buy the Spruce Hill Inn from the current owner and run it herself, "me and brothers laughed," Joanie's daughter Janine said. "Because she didn't even know how to balance a checkbook."
But Joanie had the last laugh, and got the inn back open within the year. She put her three kids to work in order to renovate the space and even enticed locals to come in and help by giving them beer in exchange for their labor.
The old bar, which was farther up Oscawana Lake Road, used to be easier to draw people. The new location has difficult parking and is at an intersection that doesn't catch the eye of many drivers.
But with those obstacles, the Spruce Hill Inn still offers customers plenty. There's live music every weekend from local talent, and beers are all at prices Putnam Valley residents can afford. For those bar-goers that have a little too much to drink, the inn will give them a ride home to ensure their safety for free.
The bar also has a pool league, and dart teams. There is an enclosed porch with a couch and tables set up to enjoy on a warm spring or summer night. Gatherings are also held at the bar, and there is no charge to rent the room.
On holidays, the bar is open for those residents that have nowhere else to go. Christmas or Thanksgiving, the inn is open and Joanie cooks a turkey. On St. Patrick's Day, Joanie cooks up corn beef and cabbage free of charge for almost 60 locals.
Now, all that is being threatened.
Joanie said her mantra has always been to earn 200 dollars a day, but she isn't making close to that most days. At first, Joanie was going to close in April, but Janine convinced her to stay open a little longer.
Joanie said the inn is the one of the last "original businesses" in Putnam Valley and needs more residents from Putnam Valley to support it. Joanie has always supported Putnam Valley, now she needs residents from the town to support her.
"We have a lot of fun here," she said. "It's an end of an era if this bar goes down."
The Spruce Hill Inn is located at 1 Oscawana Lake Road in Putnam Valley and its number is 845-528-4086.