Business Profile: Sea Chic, Mahopac
We are part of The Trust Project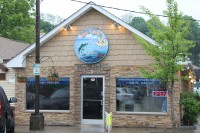 There is no need to have to travel outside of Putnam to find a restaurant that feels like it belongs in Manhattan. The Sea Chic Eatery, located on Route 6N across from Chamber Park, has that metropolitan vibe while still catering to the tastes of the locals.
The brainchild of Corey McLaughlin of Carmel and his partner Isi Albanese, Sea Chic offers a menu full of seafood, chicken and pasta dishes that are prepared fresh. With the open layout of the kitchen, it is possible to watch as your food is being cooked.
McLaughlin, who previously was an investor in several Manhattan restaurants, wanted to try his hand at running an eatery from the ground up after he retired from being a corrections officer in 2010.
Originally from the Bronx, McLaughlin wanted to do something different in Mahopac.
"When I came up here I realized there were a lot of pizzerias, delis, Italian restaurants and Chinese restaurants, there was nothing really for seafood," said McLaughlin.  "There was no place that made you go, 'Oh, now I don't have to drive down to White Plains, I do not have to go over to City Island…'  We have our marina, so I figured why not set something up here."
McLaughlin and his partner wanted the establishment to have a "City Island feel to it."
"We figured fish would do well, but we realized we were in a community that enjoyed Italian food and pasta so we wanted to draw the pasta-loving crowd and the fish lovers," McLaughlin said. "We figured why not a chicken and fish place."
While the menu is full of seafood dishes such as tilapia franscati, which is cooked in a lemon, white wine caper sauce, and an array of chicken cuisine such as chicken marsala and chicken caprese, there is a selection of pastas that have even the pickiest critic eager to come back for more, McLaughlin said.
"Once people come in and try the place, they cannot wait to return," said McLaughlin's daughter Crystal.  "People just fall in love with this place."
"There are so many dishes on the menu, it is hard to say what the fan favorite is," Crystal McLaughlin added. "We want to give people more diverse offerings because you don't want them to get tired of having the same old thing."
Keeping with that variety, Corey McLaughlin will be changing the summer menu to include a lighter fare.
"People want shrimp, clams and scallops this time of year," he said. "They want something they can take on the boat or sit outside."
Sea Chic offers take out meals and delivery service.
Soon Sea Chic, which is a full service restaurant, will offer outside seating for its patrons who want to enjoy the weather as well.
To accommodate its customers, Sea Chic also stays open late seven nights a week. It is open from 11 a.m. to 10 p.m. Monday through Saturday and on Sundays from 1 to 9 p.m.
"We are from the Bronx and there you can get food past 8 p.m.," said Crystal McLaughlin. "So my dad wanted to have a place up here that was open every day and that stayed open a little bit later than the rest."
Corey McLaughlin, who is also an associate minister at New Hope Baptist Church in Danbury, Conn., has been happy to see a very diverse group of people find the restaurant.
"We have had people travel to eat at Sea Chic and we have people who have just stumbled upon us," said McLaughlin. "After the first time they come, they almost always come back."
Sea Chic Eatery is located at 976 South Lake Blvd., Mahopac.
For more information call 845-803-8941, or find them on Facebook