Business Profile: Savannah's Southern House, Yorktown
We are part of The Trust Project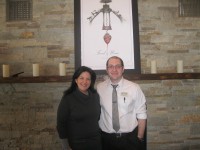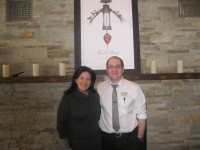 Do you have a craving for fried green tomatoes, fancy some chicken and waffles; or have a yen for sweet potato casserole? If so, you should head to Yorktown and Savannah's Southern House, which opened on April 2 on Route 202, which offers a wide range of southern specialties.
The establishment is owned by Cortlandt residents Gina and Paul DiPaterio .Their son, Paul, is the restaurant's general manager.
The restaurant was named after the City of Savannah, GA, Gina DiPaterio said. The restaurant uses "the concept of the low country cooking," she said, noting low country refers to the lower part of the United States.
DiPaterio recalled that 12 years ago her family was driving home from the beach after they had finished a meal at a barbeque restaurant and she and her husband had a talk. "We liked the idea of the barbeque, but we wanted it to be more than just a barbeque house," she recalled.
One of the most popular dishes served at the new eatery is shrimp and grits, DiPaterio said. Buchanan resident Sean Lyons, the restaurant's chef, has brought his experience working in North Carolina to the menu, which he created in collaboration with DiPaterio.
Savannah's Southern House is in a building that had housed Sunshine Pizza for over three decades. Sunshine Pizza had purchased the building from members of DiPaterio's family. "There's a lot of history in the building," DiPaterio explained. "My (late) uncle Pep and Aunt Mary owned the building and it was called The Epicure."
"My family has been cooking in this area for 67 years," DiPaterio noted. "My husband and I own Little Sorrento down the street."  Little Sorrento celebrated its 25th anniversary earlier this month. Her youngest brother, Anthony Scaramellino, and DiPaterio co-own Piazza Roma on Route 6 in Cortlandt. Her grandfather, Pops Scaramellino, opened the original Sorrento restaurant in Peekskill in the 1940s.
The look of the new restaurant impresses its patrons, DiPaterio said. "People are in awe when they walk in," she said. "They don't expect it to look like this. The idea was to be traditional southern. We did take a trip to Savannah, Georgia."
The interior of the restaurant features a lot of wood furniture and wood floors with rugs. "We hired all local contractors," DiPaterio said.
Paul DiPaterio said it was natural for him to follow his parents into the restaurant business. "It's in my blood," he said. "I tried doing other things and I kept on coming back to this."
Savannah's Southern House is located at 3901 Crompond Rd. in Yorktown. For more information, visit savannahssoutern.com.