Business Profile: Sauro's Town Square Pizza, Patterson
We are part of The Trust Project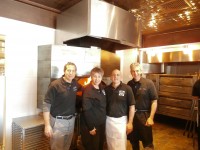 Steve and Lenny Sauro have a simple mantra that they try to impress upon their employees.
"I always tell my employees, run everyday like it's our first," Steve Sauro said.
That recipe has seemed to work so far as the Sauro family opened up its second business in the same shopping plaza last week.
The owners of Sauro's Town Square Pizza opened on March 9, a new Italian restaurant that puts "a little twist on the pizza, pasta place," creating a comfortable dining environment that offers top-notch food at reasonable prices. The new business is located right next to the brothers' first Patterson business, Sauro's Gourmet Deli and Catering that opened 20 years ago this September.
Steve and Lenny got into the food business because extended family had experience running various eateries. For Steve, he's been there from the beginning and Lenny came into the business several years later. Since 21, Steve's been self-employed.
The Westchester resident easily admits that he's his biggest critic, noting how he "agonizes over each and every day over the details of running this store."
But he added, "I think that is what has set us apart over the years."
The two brothers together have worked in sync for several years, having their "ups and downs" but always striving to do the best for the business. Steve said because he and Lenny are rooted in the same core values and work ethic, they are able to coexist successfully.
"Sometimes we clash, sometimes we don't," Sauro, the younger brother by three years said. "And I say that with a smile on my face."
Though he lives in the county below, Sauro's raves about how wonderful Patterson has been since he started his deli two decades ago. He said he doesn't look at the people that come through the door as customers, but extended friends seeking a decent meal.
Those "extended friends" have no problem approaching Sauro, complimenting him on how excellent the food was. Even when he seeks constructive criticism, it's seems hard to come by.
"The support of the community has been nothing less than exemplary," Sauro said. "Outstanding."
So far, Sauro has been pleased with the outcome of the new business. He said a dress rehearsal was held for family and friends the weekend prior to the official opening. After about a month or two, Suaro said they'd have a grand opening celebration.
As the restaurant moves forward, Sauro said he wants to get the community involved with charitable efforts. The restaurant will honor a charity each month where part of the proceeds earned from the restaurant will go to that certain charity.
Sauro said he wants community members to recommend a specific organization worth donating money to and the restaurant will be more than willing to entertain any suggestion.
Sauro said the local food pantry will most likely be the first charitable organization that gets a contribution and from there, Sauro is open to all suggestions.
"Very big part of our mantra is giving back to the community it's going to be a critical part of our existence here," Sauro said. "That's why we call it the town square. It's where people gather to help each other."