Business Profile: Rita's Italian Ice
We are part of The Trust Project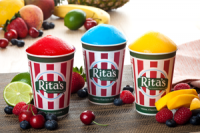 Yorktown resident David Goldes entered the frozen confections business when he opened a Rita's Italian Ice in Elmsford five years ago. Two years later he decided to branch out by opening a new Rita's in Yorktown.
"A friend of a friend" recommended that he enter the ice and frozen custard business in Elmsford, Goldes recalled last week. "It seemed like a good deal. There were no Rita's in New York at the time. I think it was a good business opportunity."
Goldes said he chose to open his second Rita's in Yorktown because "I live here. I want to be part of the community."
Rita's is named after a wife of a Philadelphia firefighter who opened the first store on her front porch of her home in 1984, Goldes said. "They grew the franchise exponentially in the '90s," Goldes said. There are 625 Rita's in the United States.
"It's a people friendly business. People love it," Goldes said. "There's something about Rita's that is just indescribable. It keeps them coming back. There's nothing like it anywhere."
Rita's offers ices and frozen custard in a variety of variations. In the summer the store offers frozen lemonade, which is a mixture of the lemon ice and another ice of the customer's choice. There are also shakes and sundaes, as well as Mistos (a blended ice and custard drink) and Blendinis (ice and frozen custard mixed with a topping).
Gelatti, which is two layers of frozen custard surrounding a layer of ice, is the store's most popular item, Goldes said.
Goldes said frozen custard "has a higher egg and butterfat content, more so than ice cream. It is served at a 20 degree temperature and it's not as frozen as ice cream."
Rita's products are all natural, Goldes said. The fruit ices are flavored with real fruit, he said. The frozen custards and ices are made daily at the store and whatever does not see within 36 hours of being made is tossed out.
One of the major features of the Yorktown Rita's is its charitable work. Rita's throughout America have donated a total of $3.5 million to the Fund of Hope which is paying for the travel expenses for children with cancer and their families this year.
"We firmly believe that it's important for business to give back to the community," Goldes said. "We do a lot of fund raising, anything to help out the community because your community is your business."
The Yorktown Rita's Italian Ice is located at 1881A Commerce St. For more information, call 914-302-7711 or visit ritasfranchises.com. The store is closed every year from December through February.