Business Profile: Rachele Rose Day Spa, Hartsdale
We are part of The Trust Project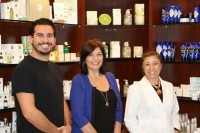 Tucked away on the second floor at 110 S. Central Avenue in Hartsdale is an oasis of wellness and tranquility that provides clients with an extensive menu of treatments and services that enrich and luxuriate the body, mind and soul.
Rachele Rose Day Spa, opened in 2008, provides the traditional spa experience with a special focus on an organic product line called Eminence Organic Skin Care from Hungary and treatments that are created to provide a unique experience for each customer. Catering to both men and women, there are products geared to different skin types that can be used during a treatment and then purchased for further use at home.
There are several rooms for facials, all manner of massage and even a foot therapy room. Designed to provide the utmost in privacy, massage rooms are fitted with their own showers and there is a suite for couples.
Rosa Calabrese runs the spa on her own today. She is the Rose in Rachele Rose. Her sister Rachele was a partner during the creation of the business, but she moved on after a short while, leaving Rosa to manage and grow the business herself.
As a former attorney, Rosa knows her way around commercial activity, but her love is the creation of wellness experiences for customers that she is continually working to expand. "It is an art," Rosa explains. And, one of the secrets of her success is the hiring of well-experienced therapists and estheticians, who are getting rave reviews from both new and return clients.
Realizing that in order to feel totally refreshed a person needs a full body and mind experience, Rosa is continually adding new services to the total wellness package. In addition to the full body and skin care services, she recently added a yoga studio to the spa's space where classes are conducted, but personal yoga instruction can also be added to the spa visit. This is just one step Rosa has taken to move the spa in the direction of Ayurveda treatment. Reiki is also offered.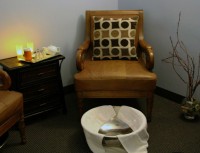 Just recently she added a foot detox procedure that pulls toxins from the body out through the feet. "Each treatment has a different affect on each person," Rosa said. "Depending on which part of the body is being cleansed, a different color appears in the foot soak."
The treatments are administered by an experienced therapist, who first consults with the client and then choses from six to eight different treatments. This is all done in a special foot therapy room, with comfortable cushioned chairs and a relaxing tea service is served.
Rosa recommends follow-up with a reflexology session.
Before any of the treatments, the licensed technicians confer with clients to determine which products and methods would be uniquely beneficial.
Rachele Rose Day Spa also offers party packages complete with champagne, special teas and gourmet snacks for corporate meetings and friendly get-togethers. "These are becoming very popular," Rosa said. There is a comfortable gathering area and the service rooms are located along a corridor that forms a square, providing total privacy.
Because of the focus on wellness and a green and healthy Earth, Rosa recently joined with Éminence Organic Skin Care and global tree planting organization, Trees for the Future, to promote green practices worldwide. Every time one of the Éminence active organic or Biodynamic products is purchased at Rachele Rose Day Spa, a portion of the proceeds will go towards planting a tree to help clean up the air and support the world's natural resources.
Rosa is excited about the program because its brings the environment of wellness she had created inside the spa, outside, to the planet as well.
A complete list of products and services can be found at the spa's site www.rachelerosedayspa.com. You can also call the spa at 914-948-7500.