Business Profile: Putnam Valley Florist, Putnam Valley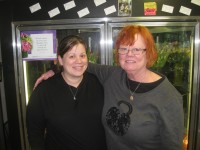 Being a florist has been a lifelong passion for Cortlandt resident Tara Scozzafava-Baisley.
As a youth she worked for a cousin, Dale, who was a florist and she majored in floral design and horticulture at SUINY-Cobleskill.
Putnam Valley Florist has been in operation on Morrissey Drive for the past 11 years. The building was formerly owned by her cousin, until it was closed for one year.
"I worked at a couple of other places and then took it over from her," Scozzafava-Baisley recalled last week. "I started helping her and I really liked it. So I said you've got to go to school for something."
One of the shop's regular customers is the Lakeland School District. Flowers are provided for a variety of purposes, including plays, graduations, and proms. The store sells weekly flowers and does Christmas decorations for local nursing homes and has funeral homes as regular customers, Scozzafava-Baisley said. .
Most of the shop's customers come from Cortlandt and Putnam Valley, Scozzafava-Baisley noted. The store provides flowers for funerals, weddings, proms, and birthdays.
Maybe somewhat surprisingly, Easter and Passover "are not as big as they used to be" for her store due to competition for flower sales from supermarkets, Scozzafava-Baisley said, adding she still does sell flowers to local churches during those spring holidays.
One of the store's specialties is customer funeral work. She has made a variety of special floral arrangements which represent the interest of the deceased, such as a police badge, cars and a New York Giants logo.
"There's a lot of florists who won't do that," she said. "It's difficult to do."
For funerals and other occasions, Scozzafava-Baisley personally does the floral arrangements.
Being an independent flower store has its advantages for customers, Scozzafava-Baisley said. Her flowers are shipped in a vase, if that is requested (not in a box), and the hand delivery day is guaranteed.
Scozzafava-Baisley said she gets flowers delivered to her and she also usually purchases flowers personally from a wholesale establishment in Elmsford every week.
Most of her customers call the store, though others use their Web site or come in person to order flowers, Scozzafava-Baisley said.
"The best thing is word of mouth," Scozzafava-Baisley's mother, Billie Scozzafava of Cortlandt, said. Her daughter agreed. "Every time I go to a wedding I probably get two more (weddings) from it," Scozzafava-Baisley said.
"She very good with people," Tara's mother said.
Scozzafava-Baisley, who is expecting her first child in a few weeks, said she gets satisfaction from her business. "Flowers make people happy," she said.
Putnam Valley Florist is located at 15A Morrissey Dr. in Putnam Valley. For more information, call 845-526-2500 or visit putnamvalleyflorist.com.