Business Profile: Play Connection, Jefferson Valley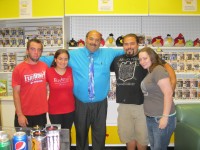 Every day can be a party day at Play Connection, located in the Jefferson Valley Mall.
"Play Connection is our indoor party place," owner and Thornwood resident John Iorio said last week.
You can have unlimited play for one hour on a variety of arcade games and use a bouncy castle for $5. The facility, which is open every day, is also rented out for a variety of events including birthday parties. A two-hour children's birthday party costs $450 for 15 kids. The cost includes exclusive use of the facilities.
Unlike the typical game room, "no tokens are ever needed," Iorio said. "It's all set to free play."
Behind the arcade is a private party room, where pizza and cake is served. "We provide everything," Iorio said. If a customer wants something other than pizza for their party Play Connection orders food from Nuthin Too It Catering in Yorktown. Food for adults requires an additional charge.
Play Connection also puts on corporate parties, including holiday parties, which could feature a disc jockey or a sound system. Iorio said, noting there is also optional bar service. "We can add so many things because we're a full event company, so we own everything" he said.
The arcade is also available for rental for groups who do not want to have a party and the back room could be rented for meetings on Mondays through Thursdays, Iorio said.
Painting Parties are offered in which an artist will provide art instruction, Iorio said.
Iorio said Play Connection is part of his Funtime Amusements, which is based in Yorktown.
Play Connection opened in the mall in March. When Iorio's company was running one of its annual Expo events with the Yorktown Chamber of Commerce in the mall it was suggested by a business owner to him to come to the shopping center, Iorio said. Play Connection opened in a small location in the middle of the mall in the spring but moved to its current larger location near Sears because this summer because the center of the shopping center is undergoing renovations, Iorio noted.
"It's just suited us so well. It's double the space of our first store," he said.
Play Connection sells Pop Vinyl toy figures. "We have the biggest selection in this area," Iorio said. "We're going to be adding more to our collection."
Outside of his work, Iorio is active in Westchester and Putnam Counties. Iorio has staged street festivals for the Chambers of Commerce in Yorktown, Mount Kisco and Mahopac and is a member of the Chambers of Commerce in Yorktown and Mahopac.
Iorio said opening his Shrub Oak facility has served a need for local residents. "If you want to go to a party place that has what we have here you really have to go to Rockland or down to Mount Kisco. So really nothing that's close by that does what we do," he said.