Business Profile: Panio Wines & Liquors, Peekskill
We are part of The Trust Project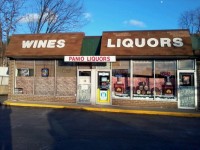 Panio Wines & Liquors has been an institution in Peekskill for decades.
Currently carrying on the tradition is owner David Pacchiana., who resides in Cortlandt. The store has been open since 1979.
But there is a threat to his business and several others in the CrossroadsPlaza shopping center on Main Street. The City of Peekskill is seeking to tear down the establishments and replace them with a new central firehouse.
Outgoing Mayor Mary Foster and the Common Council had agreed to a plan to construct the firehouse on portions of the shopping center that would force the businesses to move. "We've been going to numerous meetings and stating our case," Pacchiana said last week. "The current administration approved it without any voter approval."
But after the recent election, in which Foster and two incumbent council members were defeated, the fate of the firehouse project is uncertain.
"The incoming mayor (Frank Catalina) has said that he would prefer to find another location for the firehouse, "Pacchiana said, adding that both business owners and residents have opposed the project. "To many of us, it just doesn't seem to make sense to take out successful businesses and pay for demolition and to move all of our businesses."
An alternative location for the new firehouse could be on an empty lot on Park Street, which is 100 yards from the shopping center, Pacchiana said. "There's an empty lot right there that would save taxpayers millions of dollars," he said.
The original owners of Panio Wines & Liquors were Rocko and Rosemarie Panio of Yorktown. They sold their business to Pacchiana three-and-a-half years ago. Pacchiana formerly managed pension plans for the Hertz Corporation, the famous car rental company.
"I was working in corporate America. Our company had undergone drastic changes and I was looking to do something else and get into my own business," he recalled.
While Pacchiana said he enjoys owning his own business, it does take a great deal of effort to operate it successfully. "It's more than a full-time job," he said. "It's basically almost 365 days a year."
The store offers wines from California, Italy, Germany, Chile, and Australia. "Over the past probably 10 or 20 years wine has become very prominent throughout the world," Pacchiana explained. "It's a strong growth industry. Many countries have begun to grow their grapes. A lot of expertise has been transported from France and from the United States who were really at the forefront of establishing the wine industry. Italy, of course, is big as well."
A new trend in his industry is flavored spirits, Pacchiana said. "Everybody's just coming up with new crazy types of flavors constantly," he said. Some of those flavors include popcorn vodka, pumpkin pie vodka, maple honey whisky and cinnamon whisky, he said. "Everybody's trying to outdo each other with new flavors."
Panio Wines & Liquors is located at 1101 Main St. in Peekskill in the Crossroads Plaza Shopping Center. For more information, call 914-737-3454.