Business Profile: O'Grady's Public House, Yorktown
We are part of The Trust Project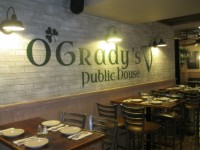 O'Grady's Public House in Yorktown may have opened earlier this year, but its roots go back to the early 20th Century.
The Irish-themed restaurant is dedicated to Catherine O'Grady, who came to the United States from Ireland in 1908. As stated on the establishment's Web site, "Catherine's amazing love and dedication to her family, her compassion for others and her strong work ethic are what inspired us as a family to bring you O'Grady's Public House."
Tonya Anthony (whose grandmother inspired the name of the restaurant) and her husband, Mark, opened O'Grady's Public House on Commerce Street in March. Public House was chosen for the name of their business because it is an Irish name," she said, adding the eatery is "family friendly."
The menu features Irish and American fare. "Everything is homemade. There's no frozen product," Anthony explained. Some of the traditional Irish dishes served include Guinness beef stew made with a stout gravy; an Irish breakfast featuring scrambled eggs, roasted tomatoes, Irish style sausage and bacon, savory black and white pudding and Irish soda bread; and Shepherd's Pie.
The restaurant, which opened in March by the Pawling couple, serves lunch and dinner daily. Small plate portions are available at lunch.
Anthony, a graduate of Somers High School, said Sunday brunch includes a buffet featuring two hot dishes, as well as a choice of a served entree.
Anthony said a chef from New Jersey came to the restaurant prior to its opening to train the staff as well as having the staff also travel to the Garden State for additional training. "The food is amazing," Anthony said. "I'm a true believer in it."
O'Grady's is not the first restaurant the couple has owned. Anthony previously owned a café in Hopewell Junction and her husband also operates the South Side Sports Bar and Grille in Mahopac. "Once you do it you're addicted," Anthony, said, explaining why the couple has devoted their careers to the restaurant business. "This one has more of my heart in it because I did it all with my family history "
Anthony said the building that houses O'Grady's formerly was the site of a sports bar and much renovation work was done. The establishment is doing brisk business with families, she said. Customers have come in and "didn't expect it to be so beautiful," she said.
Anthony said there was ample parking in back of the restaurant, which is located in a small strip shopping center. "People don't realize we have parking in the rear," she said.
O'Grady's Public House is located at 1927 Commerce St. in Yorktown. It serves lunch (excluding Sundays) and dinner daily and Sunday brunch from noon to 3 p.m. For more information, call 914-214-8600 or visit ogradyspublichouse.com.