Business Profile: NY Firehouse Grille, Peekskill
We are part of The Trust Project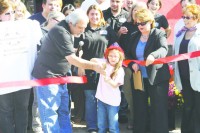 When Yorktown resident Alex Asadoorian and his financial partners learned that the popular NY Firehouse Grille was up for sale earlier this year, he said they move quickly to purchase it and reopen it.
"We knew it was a landmark place and it really goes to the beliefs that we have – giving back to the first responders and just honoring those people who work hard every single day and never ask for anything else from us," Asadoorian said during an interview at his eatery last week. "We saw the place for one hour and we put a bid in."
Asadoorian provides 10 percent discounts every day to fire fighters, police officers, EMTs, paramedics, active military personnel and teachers. "They know it and they love it," he said. "It's a little way for us to give back to them because they do so much for us."
He said the closed restaurant "needed a drastic overhaul" before it could be reopened. He took out the old island bar, moved the entrance to another location to separate the new bar and dining area; "Other than that, we wanted to stick with the original rustic look of the building," he noted.
This is the first time Asadoorian has owned a restaurant, though he managed one for three years in Connecticut.
Business ownership has been a tradition in the Asadoorian family. "My family has been operating successful businesses in Westchester for the past 40 years," Asadoorian said. "It really comes naturally to my family to just kind of take a step and put ourselves out there for the community."
Barbecue is a trademark of the new restaurant, which has an in-house smoker. Ribs, brisket and a half smoked chicken, which "is probably our specialty," are smoked every day, Asadoorian said.
The establishment also offers 39 varieties of chicken wings, as well as a wide variety of other dishes, including fish tacos, steaks and burgers. "Everything's prepared in house, nothing's frozen," Asadoorian said.
The new tap offers 12 varities of beer that are "freezing cold," Asadoorian said.
"Wing Night" is held every Monday from 6 to 10 p.m., in which he offers chicken wings for 35 cents a piece.
The most poplar time for the new restaurant are Sundays when patrons can watch pro football games on the establishment's several big screen televisions and beer specials are offered.
The restaurant had a "soft opening" in early October and its grand opening took place on October 20. Asadoorian said he has been getting the work out about his business through such means as newspaper articles and advertisements and via social media such as Facebook. "It's been busy," he said. "The town's buzzing about this place."
"With the people that we know and the people that we meet, I think that this place will be here for a long time," Asadoorian said.
New York Firehouse Grille, located at, 50 Welcher Avenue, is open daily from 11 a.m. to 1 a.m.
For more information, call (914) 788-0808 or go to http://newyorkfirehousegrille.com.