Business Profile: New Light Laser, Mount Kisco
We are part of The Trust Project
Finding a hair removal system that's quick and comfortable and can work well on all skin types and hair color has been difficult up until now, but as Pat McMann, the owner of New Light Laser, will attest to, all of that can be achieved more easily with the latest state-of-the-art laser technology.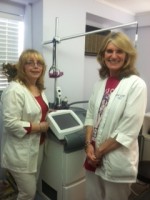 McMann, who has been in the business of hair removal, skin rejuvenation and tattoo removal for the past 20 years, has an in-depth knowledge of the industry and what it takes to treat clients carefully and with respect.
When she first opened her salon in Mount Kisco, electrolysis was the hair removal system of choice. McMann remembers getting her first electrolysis machine, and like other pieces of equipment she's purchased over the years, she was careful to learn everything she could before using it on a client.
The commercial availability of light laser technology in the mid-1990s changed the way hair removal was conducted, giving practitioners ways to permanently reduce a person's hair growth, but not permanently remove it.
McMann, who still conducts a wealth of due diligence before purchasing any new technology, is excited about the recent addition to her arsenal of tools, a state-of-the-art Skintel™ Melanin Reader that is the only FDA-approved machine of its kind being used for laser light treatments.
"It's unbelievable," said McMann, referring to the precision with which she can remove unwanted bikini hair as well as hair on legs, underarms and the back, all done in a shorter timeframe than before.
The machine is also a game-changer, added McMann, because it can measure the melanin density of the skin, which helps her choose the right treatment setting for each individual client. Unlike shaving that only lasts for days or waxing that needs to be repeated every few weeks, McMann said the convenience of a laser treatment can't be matched because it targets the hair cells that are responsible for hair growth without harming the surrounding skin.
Laser treatments can also safely remove hair from the face (except around the eyes), but not everyone takes to the treatment, noted McMann, a Long Island native. People with light skin and dark hair are the best candidates. Most laser treatments that McMann conducts provide results that last about two and a half months.
What sets McMann apart from others in her industry is the fact she that offers a free "cleanup" to clients about three weeks after their original treatments."Nobody else will offer that kind of service free of charge," she added.
McMann still offers electrolysis treatments, especially for clients who don't take well to the laser, but still want to avail of a hair removal system.
Another aspect of McMann's business is skin rejuvenation, a treatment that resurfaces the skin and improves its overall texture, clarity and appearance. "This is a wonderful healing treatment that is ideal to do during the winter," said McMann, who has two machines in her office, both of them used to treat rosacea, spider veins and skin imperfections due to sun damage, as well as fine wrinkles.McMann recommends that clients are over 35 before they consider such treatment.
Laser-powered tattoo removal is also very popular at New Light Laser.  Clients are either dissatisfied with a tattoo they might have had for years and want to cover it up with another one or simply want to remove a tattoo completely. While many tattoos can be eliminated or faded considerably, some are more difficult to work on, she added.
Using the Medlite tattoo removal machine, McMann said she can greatly reduce a tattoo, but often it depends on the original colors that were used and the degree of professionalism that went into its application.
Always the caring and thorough professional, McMann won't perform any type of treatment, be it laser hair removal, electrolysis, skin rejuvenation or tattoo removal until a client has agreed to her free complimentary consultation.
"I really understand a lot about the skin, and I want my clients to be happy with the results," she said.
New Light Laser is currently running a special offer of $50 off any laser treatment for both new and current customers during the month of May. The salon, which is open Monday through Saturday from 9 a.m. to 7 p.m., is located at 275 East Main Street (the Medical Building) in Mount Kisco. To book an appointment, call 914-241-3114 or visit www.newlightlaser.com.
Colette Connolly is a copywriter and p.r. expert. She owns Connolly Communications, which is based in Bronxville, New York. Colette specializes in providing content-rich, SEO-optimized press releases, articles, newsletters, brochures, and customer success stories.