Business Profile: Ms. Dancewear Inc., Mohegan Lake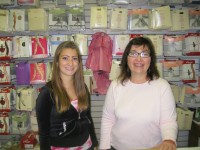 Mohegan Lake resident Susan Stanford had young daughters who were dancers who "had a hard time finding dancewear."
Finding dancewear is not a problem at Ms. Dancewear Inc., the store Standford owns in Mohegan Lake, provides a wide array of dancewear.
The store sells dancewear, dance shoes, and clothing for gymnastics, cheerleading, amateur and professional theatrical performing, skating and fitness, Stanford said. The store has customers of both sexes and all ages, though most of the customers are females under 25, she said.
One of the store's specialties is dance shoes, including ballet shoes that need to be fit exactly, Stanford said. Ballet shoe fittings are done at the store generally by appointment. "At certain times of the year we need to do it by appointment because we have so many people walking in," Stanford said. "The shoe has to fit so exactly (because) the dancer could be injured or just won't be dancing to their full potential" with shoes that are not fit properly. It takes about an hour to do a dance shoe fitting, she said, adding that the store also does shoe fitting at dance studios.
"This is a very busy time of year because all the (dance) schools are opening up again and the gymnastics places are opening," Stanford said. "We very busy from August to October."
The name Ms. Dancewear Inc. came about as "an interesting play on words" of Stanford and her former partner, Standford said. She and her former partner originally opened the store in 1996 and Stanford has run the business on her own since 2002.
"We decided to open this business together so that there would be something local where you could get a wider variety of dancewear and dance shoes," Stanford said. "I had no background in it. I was a legal secretary."
Stanford said East Main Street was chosen because it is centrally located, Stanford said. "Everyone has to pass here," she said. "There's a lot of dance schools surrounding us."
Last month, Stanford started an on line store to allow customers to purchase items without traveling to her store, especially in bad weather. "It's becoming more of an Internet society," she said. "We can also reach customers across the country."
Stanford said he customers come from "all over" — from northern to southern Westchester, as well as Orange, Dutchess and Putnam counties and Connecticut. "We reached out to the studios," she said. "I wanted to build the largest inventory of anyone around and the word sort of spread that you could get just about anything here."
"They know that even if they're driving an hour to come they're going to get everything they need in one stop," Stanford said.
Ms. Dancewear Inc. is located at 1870 E. Main St. in Mohegan Lake. For more information call 914-526-8380, visit msdancewear.com or send an e-mail to msdancewear@yahoo.com.