Business Profile: Mahopac Taxi, Mahopac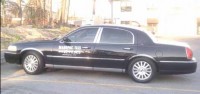 Ruth Ayala-Quezada was introduced to the car service business through her father, owner of Ernie's Taxi in Mount Kisco, back in the 90s. She worked for him as a dispatcher when she was young up until adulthood, when he sold the company in 2000.
In 2007, Ruth started her own business, Carmel Taxi. She chose to continue in the car service business because she had two small children and needed a flexible job, which " was hard to find." Taxi driving allowed her to be on the road when they were in school, and to "wait for them at the bus stop and drop them off with my family until their father got back from his job," she said.
The desire to prove her husband and other taxi owners wrong about a female's capabilities in the industry served as motivation for Ruth. "They thought that I was a flake and that as a woman I would not be able to handle the taxi business," she reported.
"I never thought of myself as a weak person who trips over the first stone in the path or gets intimidated by others, and I surprised them." Ruth said. Her education and job experiences provided the tools she needed to move forward towards success.
Being very selective with her drivers makes her company stand apart from others. She makes sure that "they are qualified drivers by (her) insurance carrier, and they have to obtain their WTLC license, where they get fingerprinted, drug tested, and their backgrounds are checked." Also, her vehicles are always clean and non-smoking, which make the trips provided comfortable and enjoyable.
If you don't have enough cash on hand, credit cards are accepted and you can make reservations through their computerized system. This is also used for dispatching.
Expanding into Mahopac wasn't a hard decision for Ruth to make. "I heard clients complaining about the quality of car services in Mahopac, so clients would call me to come from Carmel and overpay for a local service in Mahopac." She said.
The drivers she heard about in Mahopac were reportedly late, overpriced, rude, and would sometimes not even show up.
"I saw it as an open market where I could provide reliable and courteous service while offering a local rate for trips within Mahopac," Ruth said.
Reliability doesn't stop there. Carmel Taxi and Mahopac Taxi have received several calls and frequent customers providing great feedback. The customers say that they "like the fact that (Mahopac Taxi/Carmel Taxi) is reliable and punctual. If you miss your train you have to wait another hour for the next one."
Thanks to their great service, in Mahopac there have been several return customers for airport and train trips. Clients know that it's a company they can trust and rely on.
Ruth keeps her heart in her work, even though she doesn't drive frequently anymore. She has dispatchers taking care of the phones, and she focuses on managing the office. "I like managing and that is what I do best: telling others what to do and making sure it gets done properly." Ruth said.
Keeping efficiency in mind, she makes sure to do all the paperwork involved with providing medical transportation for the state. She also oversees operations and solves issues that the company may be dealing with.
The farthest the company has travelled so far was to Boston, to help some business men get there when they couldn't find a fitting plane. Another instance was from the city to Danbury to Atlantic City for a honeymoon.
Customer satisfaction is a must, so Ruth ensures that they are provided with "a courteous and prompt service." Furthermore, if a vehicle won't be available within 10 or 15 minutes, the client will be contacted and they may change their schedule or find different transportation as needed.
Price estimates can be given over the phone by an office dispatcher, who may map locations via computer. It's acknowledged that time is valuable, and Mahopac Taxi will not waste your time.
The only obstacle that Ruth has had to face with her taxi companies is the fact that Carmel doesn't have taxi regulations. The lack of reliability and public safety gipsy taxis are accompanied by results in lower prices, but it's not a good idea; Mahopac Taxi and Carmel Taxi require drivers to have their Westchester TLC License.
Mahopac Taxi and Carmel Taxi provide "quality service and safety."
Their hours of operation are Sunday through Thursday from 5:30 am to 1:0 am, and on Friday and Saturday they are open 24 hours.
To contact them, call 845-621-2525 (Mahopac) or 845-225-5555 (Carmel). Also, please visit www.carmeltaxi.net where you may also contact via email.
By Alyssa Zack