Business Profile: Luvin Spoonfuls, Yorktown
We are part of The Trust Project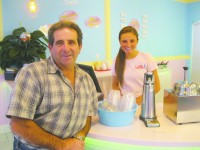 On the outside of its business, a new Yorktown merchant describes itself as "A Self-Serve Frozen Yogurt Extravaganza!"
The extravaganza, Luvin Spoonfuls, has been open at 94 Triangle Center, next to A & P, in Yorktown since August 11.
Customers have the choice of 100 rotating frozen yogurt flavors, with 12 choices daily, and more than 40 topping of their choice via self service. They are charged by the ounce. Smoothies and Italian ices made in the Bronx area are also available. Beginning in October, the menu will be expanded to include coffee drinks and soups.
The business is co-owned by Ted Russel of Hopewell Junction and Ray Grande of the Bronx, and has a staff of about 14 part-time employees.
Russel said he and his partner came up with the name for their business as a result of an on-line contest. "It just seemed right," he said.
The Triangle Center location was recommended by the company that sold Russel and his partner the yogurt machines.
Russel said the most popular flavors are variations of vanilla, chocolate and strawberry-banana. Some other flavors are chocolate malted, cappuccino, and espresso. The yogurt machines are cleaned every day, but the owners do not make the frozen treats themselves. "It comes in gallon containers. It comes frozen solid," Russel explained. "It takes about four days to thaw. We have several different distributors."
Russel is a traditionalist when it comes to his favorite frozen yogurt. "I've always been a very strong chocolate, vanilla, strawberry guy," he said, adding his likes to top his yogurt with chocolate syrup and hot fudge, whipped cream and peanuts.
The shop is open late morning to 10 p.m. on weekdays and until 11 p.m. on the weekends.
Business was very good in mid-August when Luvin Spoonfuls opened, but it has decreased a bit since the new school year began, Russel said.
"We're still hanging in there," he said. "The future is bright. We have a lot of advertising going on. We run a lot of specials." The promotions include dollar coupons in newspapers and discounts for seniors and a daily discounts for military veterans.
"It's a fun business," Russel said. "It's tiring, but it's fun."
Russel said he and his partner work seven or eight hours a day in rotating day and night shifts, every day of the week.
Although Russel feels his business can be a success, he and his partner are having new customers come in and they are seeking additional regulars. "There's still a lot of people who haven't discovered us yet," he said. "Every day we get somebody new in here and which is good because then we know our prospects are looking really good."
The Luvin Spoonfuls' web site is luvinspoonfuls.com. It can also be reached at (914) 214-8063. Like it on Facebook and follow it on Twitter.