Business Profile: Lola New York, White Plains
We are part of The Trust Project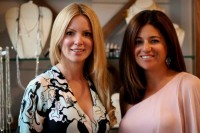 Attention beautiful women of Westchester; there is a new boutique in White Plains that you are going to love.
Lola New York, located at 396 Mamaroneck Avenue, in White Plains, truly has all the must-have jewelry and accessories you've been looking for and at very affordable prices.
Partners Dawn Pasacreta and Denise Elias McCarthy, both White Plains residents with children in the school district, opened their shop on May 5th.
"Our sons are best friends," said Pasacreta. 'That is how we met."
For the past four years McCarthy, a native of Cuba, has been selling jewelry and accessories out of her home at special parties and fund-raising events for the school PTA.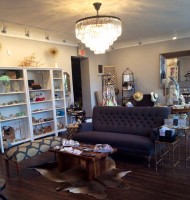 Pasacreta, a Westchester girl, has experience in merchandising and was formerly employed at Macy's and Nordstrom. Both have a great eye for fashion and working together as a team, have discovered a niche market that is already showing signs that it will be a huge success.
McCarthy says that women need to celebrate their femininity and the items on sale at Lola New York are attracting customers to do just that.
The store is intended to be a source of gifts for women of all ages. There is a special area set-aside just for teens with stylish after-prom dresses and bejeweled clutches, and necklaces that would put the final touch on any prom dress. But rocker vintage tees and rompers can be found there as well.
There is even a selection of often hard to find fine religious jewelry, intended for gift giving at Bat mitzvahs, Communions and Confirmations.
Only two weeks after the move to a physical location, the partners say their customers have followed them and passersby have stopped in very excited about what they see in the store.
The ambiance is inviting and homey. The name Lola was McCarthy's idea and is taken from a song about girls from Havana. At her home parties McCarthy would light a candle from the Capri Blue collection called Volcano featuring tropical fruits and sugared citrus scents. This has become Lola's signature scent and the same candles burn in the store (and they can be purchased there as well), providing a sensual feel that compliments the inviting seating areas, where customers are encouraged to spend time. A bar with stools at the check out counter creates an engaging space for chats over coffee.
When they are not in the store or taking care of their families, Pasacreta and McCarthy are busy shopping at shows and wholesale outlets in Manhattan and wherever they need to go to get just the right items. They seem to have an eye for finding the right merchandise for their Westchester clientele.
Because they purchase at wholesale, their prices are competitive and as Pasacreta says: "You can purchase a gift and something for yourself as well."
Earrings range in price from $10 to $50 and there are necklaces priced at $15. Many of the items would sell for much more at expensive department stores and even online.
Featured items include trend jewelry, chunky necklaces, long and layering necklaces, stone bracelets, super light chandelier earrings and studs, and hair accessories.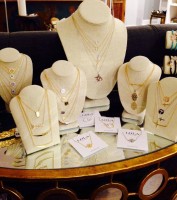 There are several designer lines carried by Lola including Amour Vert, an eco-friendly line of tees; Gigi New York all leather bags; Adina 14 carat and sterling "celebrity wears" with real diamonds; Analili dresses from Miami; My Saints My Hero bracelets with a message; Terry Stack belts with interchangeable buckles; Nakamol designs that are hand beaded and custom ordered; beach bags handmade in Madagascar by Oniko; and a line of cosmetics called Grande Lash.
Items are always giftwrapped and gift certificates are available.
McCarthy and Pasacreta will continue to plan special events for moms and daughters and girlfriends, including party and beauty nights. In June they plan to schedule their first Girl's Night Out event, which will be posted on the Facebook page LOLA-NEW-YORK and emailed to customers who have signed up for notifications.
Store hours are Tuesday, Wednesday and Friday: 10 a.m. to 6 p.m.; Thursday: 10 a.m. to 7 p.m.; and Saturday 10 a.m. to 4 p.m.
McCarthy says customers should check the Facebook page regularly for news about specials and events. You can also visit www.LOLANY.com for more information about the store.