Business Profile: License 2 Grill, Thornwood
We are part of The Trust Project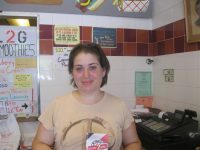 Valhalla resident Erica Gendler, a former waitress, took the plunge in February 2014 and became owner and operator of her own eatery.
Gendler purchased License 2 Grill on Commerce Street in the Thornwood section of Mount Pleasant.
Gendler said last week the opportunity to buy the business came after her father, Stephen, passed away and left her some money.
Gender said owning and operating a business has been "an exciting time."
Though she enjoys business ownership, there are "a lot of hours that you don't always get rewarded for right away." But doing so leads to rewards in the future.
Gender said most of her customers come from Mount Pleasant, Chappaqua, Bedford, Armonk, and Mount Kisco.
License 2 Grill offers a variety of specialties including burgers and chicken. "Those two come off the grill and people really seem to enjoy them," Gendler said.
One of the restaurant's most popular burgers is the patty melt, which is served on Texas toast, with cheese and caramelized onions. The burger took third place at Westchester Magazine's Burger and Beer Blast in 2015 at the Kensico Dam. "It's a really rich, juicy burger," Gendler said, adding that she was thrilled with the honor. "It was incredible. It was so unexpected. It was really wonderful to be recognized for our hard work."
Other poplar dishes offered at License 2 Grill include the Buffalo chicken wings and the empanadas, which Gendler personally creates. She fills the pastries with such savory and sweet ingredients as beef, barbequed pulled pork and sweet potato.
Gendler said her establishment's smoothies include fresh fruit and milk or can be made in a non-dairy fashion.
The eatery's children's menu features boneless chicken strips, a grilled cheese sandwich, burgers and quesadillas.
The restaurant is known for its Nutella moose dessert. "It's our signature dessert," she said. "It's homemade and people come here for that."
Gendler said she wants her restaurant to be a popular destination. "I just really hope the community will continue to try us and enjoy us and we really want to be able to make it special and memorable for children to grow up and remember us later," she said.
License 2 Grill is located at 802 Commerce St. in Thornwood. For more information visit the restaurant's Facebook page, its website: http://www.license2grillny.com/menu.htm, send an e-mail to contact@license2grillny.com or call 914-747-0009.