Business Profile: Learning the Basics of Personal Finance at My Money Workshop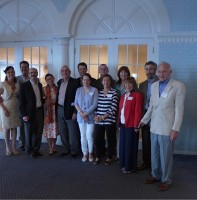 Three and a half years ago when Richard Yaffa, CEO of Bedford-based My Money Workshop, began to notice there was a lack of knowledge amongst high school and college students about the basics of personal finance, he started talking about the problem with friends and colleagues.
The country was immersed in a deep recession with rapidly growing debt and it was apparent people did not understand how to handle credit. It was most obvious among youth, out on their own for the first time, who wanted to live a certain lifestyle and were finding out they were running out of money, creating personal debt of their own in the form of student loans and credit card bills, and the problem was worsening.
In a discussion with Gary Gordon, a semi-retired former Wall Street executive, Yaffa, himself a successful entrepreneur and business owner, found they both had similar observations and concerns. Together, they decided to do something about it and My Money Workshop was born.
To date the not-for-profit organization has held workshops at over 40 educational institutions, reaching 2,000 high school seniors and college students. The instructors are all volunteers and the cost of the workshop to students and the sponsoring educational institution is free.
Energized by the success of the program, Yaffa is set to take his organization to the next level and is determined to get the message out to more than double the student population he has already reached.
The first thing that hit the My Money Workshop instructors when they held the initial sessions was the lack of knowledge students have about finances and how little thought is given to it. "Much has to do with the back ground of the students," Gordon said. " If a student has been given everything by their parents, they have not had to learn about creating a budget. But if that student had to go out and get a job early on and had to pay for their education themselves, then they are a bit more savvy."
Vicki Gold, another instructor with My Money Workshop, saw a newspaper article about the organization and decided she wanted to get involved. Gold agrees with Gordon. As a former personal finance planner, she had noticed there was an educational void for high school and college age students.
"Students take lots of math classes but they don't have much knowledge about everyday finance," she said. "Today it is so much more complicated than it used to be. It is easy for kids to sign their lives away on loans."
There is a set formula for the My Money Workshops developed by the instructors. The first topic: creating a budget.
"The budget is a real eye opener for the students, especially high school kids. They don't know the answers, but I tell them it's not a test." Gold said. "They are fascinated and immediately become engaged with the subject matter." This has earned My Money Workshop many invitations back to teach a new set of incoming students.
To work through the budget process My Money Workshop created a fictitious character, Robert Goodworker who earns $40,000 a year.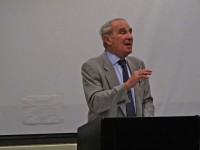 "We look at the first paycheck and take out all the deductions. Then we discuss the importance of having medical insurance. By the time rent, transportation, utilities, cable, mobile phone, food, clothing, and student loan payments are added in, reality hits home," Yaffa said. "This is where students begin to realize they have to make choices. Perhaps I have to live at home for a while, or maybe I need a roommate. Maybe I can't buy the new car, I'll have to get a used one or take the bus," he explained.
"We even start them thinking about retirement plans," Gordon said. "What began as a great salary of $40,000 soon looks like not enough for the lifestyles some students want. They learn about establishing options, making choices and even setting future goals."
Gold is particularly concerned that students learn early about creating good spending habits. "Young people should get credit cards, but they must pay their bills on time. Much in life is a trade off. Everyone can't have everything, but establishing a good credit rating is very important to obtaining future goals," she says.
Yaffa talks about the $72 cup of coffee, a lesson for students that tells how not respecting credit card fees, penalties and interest payments can add up. "This gets the students' attention fast," Yaffa notes.
"You start with the $2 cup of coffee that you charge to your credit card," he begins. "When the bill comes in you don't make the payment, so next month when the bill arrives, you still have the $2 coffee charge, except now there is another $35 of penalties and interest. That makes you angry, so you don't pay the bill and the following month in comes the bill with $35 more interest and penalties and that $2 cup of coffee is now costing you $72, and you're on the path to ruining your credit rating."
The curriculum also includes the difference between credit and debit cards and selecting a bank for your first checking account, plus the how's and why's of setting aside savings.
In the end, students learn that when they are in control, they can make better life decisions.
The team at My Money Workshop has taught at numerous local high schools, and at colleges and universities in the tri-state area. The program has also been conducted at correctional institutions. Yaffa intends to get the message out and is seeking interested organizations that might be interested in the program, including those with Spanish speaking populations.
To learn more about My Money Workshop visit www.mymoneyworkshop.com.