Business Profile: Kent Lakes Farm Market, Carmel
We are part of The Trust Project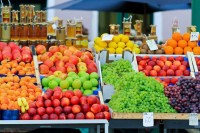 Farm fresh and local produce are words that are generating more attention lately, but for Richard Viebrock, Sr. of Kent it is a concepts he has taken pride in for years.
Viebrock owns Kent Lakes Farm Market, which opened for the season on Thursday, May 3, at 164 Route 311. He has spent the past five years helping his patrons get the best local produce in the area.
"I try to buy everything from the Hudson Valley, except for the tomato sauces and the mozzarella which come from Brooklyn," said Viebrock. "Why have the tomato sauce and mozzarella come from Brooklyn? Because it is excellent, that is why."
In addition to the seasonal produce, tomato sauce and fresh mozzarella, the farm market carries hanging and gardening plants, locally jarred products such as honey, maple syrup and jellies.  Italian bread from Mario's Bakery in Hopewell Junction and fresh eggs are available daily, too.
Viebrock personally selects exactly what his farm stand will carry.
"I myself go up to the farms and buy certain foods from certain farmers.  I get everything fresh," he said.  "We say we have the best corn. It is picked in the morning and is on the stand by 10 a.m. fresh every day."
What he does not get from the specific farmers he gets from the Hunts Point Produce Market.
"I buy the best from the Hunts Point market," Viebrock said. "When it comes in and I buy direct and put it right on our shelves. It does not get much fresher. People are really benefiting from the produce we provide."
You may find cheese at the farm stand, but it is not the place to go for milk, according to Viebrock.
"We're not a deli, we do not sell milk," he said. "I don't want to sell butter or things like that. I do not want to compete with the delis I just want to do fresh produce and give the people local stuff."
Viebrock, who has been in the produce business for more than 40 years, is the owner and president of Farmers Pride, a wholesale company that delivers fresh produce to about 250 restaurants, delis, and schools in the area.
Strictly a wholesaler,Farmers Pride does not sell items to the retail market, but when people started coming in asking to make personal purchases it gave Viebrock the idea of opening up the farm stand.
Viebrock's son now runs Farmers Pride and the storage facility on the 164 Route 311 property, so he can put his focus on the farm stand.
"It gives me time to do what I want to do," said Viebrock. "My thing is the farm stand. If I could only get people to understand that they are not paying more, they are getting better stuff. I get it fresh from the farm. It is not getting put into storage or into a warehouse. It is picked in the morning and is here shortly afterward."
The first year he was outside with a table and a few umbrellas. Each year since then, the farm stand expanded.
While the farm stand already offers an array of tasty desserts from Dutch Dessert, tarts, cakes, cookies and pies baked by Viebrock and his family, this year he purchased an enclosed trailer that has a full commercial kitchen. The new trailer will permit Viebrock to make fresh apple cider, doughnuts and other treats.
He is also putting out tables and chairs so patrons can sit and enjoy some coffee and sweets. The new set-up is expected to be up and running by the beginning of July.
In the past Viebrock has been able to keep the farm stand open through Halloween. He is hoping, with the help on the new trailer, to keep it open through Thanksgiving.  Viebrock also intends on being open Tuesday through Sunday this year.
"As long as the weather permits, we will stay open," said Viebrock. "People do get bummed out when we close."
Viebrock is looking for seasonal help to assist in running the stand.
People interested in a job or who have questions about the farm stand can call 845-208-8697 for more information.