Business Profile: Kelly-Oster School of Irish Dance, Baldwin Place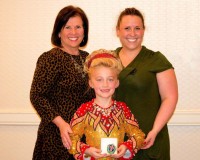 Irish Line Dancing has been an important part of the life of Brewster resident Karyn Oster since childhood.
"I could dance before I could walk," Oster said last week, adding many family members were avid Irish dancers and some even won world championships.
She translated her passion for Irish dance into a long career. The Kelly-Oster School of Dance was started nearly 35 years ago by Kerry Kelly-Oster, Oster's mother.
"I knew I always wanted to teach dance," Oster said.
Oster described what Irish Step Dancing is. "We only use our feet. We don't use our arms," she said. "That comes from the history of being in protest to the English king." Back in the famine times of Ireland in the 19th century, "The Irish were pretty much slaves in their own country," she said. "They were actually banned from dancing." If they were dancing from the waste down it was not considered dancing, she said.
"It's very intricate footwork," Oster said. "We do both soft shoe and hard shoe, like ballet and tap."
The school has trained several champion Irish dancers. Competitions are judged on such elements as timing of dancing to music, footwork and body positioning, Oster said.
Over the Thanksgiving weekend students from the dance school participated in the regional Mid-Atlantic Oireachtas (the Irish word for competition) in Philadelphia, which featured dancers from New York, New Jersey, Pennsylvania, and Delaware. The school took home first and second place in the team dance drama competition, qualifying the participants for next year's North American competition in Orlando, FL in July and the world championships in Scotland in March. "In six minutes we have to tell a traditional Irish story all through Irish dancing," Oster said. However, though the two teams qualified for the world championships, their spots will be transferred to 2017 because Oster and her mother are judging the 2016 world championships. "It's an amazing opportunity for my mom and me," Oster said,
The Kelly-Oster students have practiced for years, Oster said. For example, the youngest competitor in a solo category in the November competition is seven and has been dancing since she was four, Oster said. The Kelly-Oster students compete and perform at various venues throughout the year and can take classes all year round, except for a brief Christmas season break of about two weeks. The students took part in over 100 performances during this year's St. Patrick's Day season, Oster said.
Teachers from a dance school in England have been coming to the Baldwin Place school every year for the past decade to share their expertise with students.
While the school specializes in Irish Line Dancing, it also offers ballet and tap dances, which are often used as secondary techniques for the Irish dancing participants, Oster said. There are introduction to dance classes for children as young as two and classes are offered for both youths and adults, though the line dancing competitions are limited to those up to the age of 21, Oster said.
Most of the school's students come from Westchester, Putnam and Dutchess, Oster said. The family also holds classes in Hopewell Junction.
The school was originally opened by Oster's mother in Carmel and has been in various locations before moving to its current spot last year, Oster said.
Aside from learning to dance, students learn to get up in front of a crowd and be able to be a good public speaker through their competition experience, Oster said. "They're usually more outgoing," she said.
Oster said she wants her students to receive life lessons.  "Hard work pays off. They have to go home and practice," she said. "They have to follow through, if they dedicate themselves and they really work hard they will win that trophy."
But hard work alone may not guarantee victory and students also need to deal with defeat. "That doesn't make you any less of a person," she said. "It doesn't degrade your hard work."
"My goal is to make it extremely family orientated," Oster said. Throughout the year the school works with students and parents to raise funds to pay for some of the expenses involved with taking part in competitions, she said.
"I think the key to success is actually just treating the kids and the parents as people," Oster said. "We make it a family event. We try to invite everybody in."
The Kelly-Oster School of Irish Dance is located at 267 Tomahawk St. in Baldwin Place. For more information call 845-598-3094 or visit http://www.kellyoster.com.