Business Profile: Hudson Valley Graphic Design, Croton
We are part of The Trust Project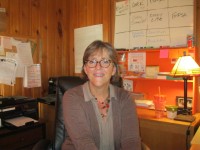 Croton resident Janeen Violante recalled, "I was always the artist in the class." Violante, whose late father Walter Geary was a photo engraver, has been using her artistic skills for decades professionally ever since.
"I decided to go into graphics," Violante said last week. "I really wanted to design packaging for the layman, for the regular person who picks something up off the shelf in Shoprite."
Today, she is the founding principal owner of Hudson Valley Graphic Design. The business, which changed its name two years ago, was formerly known as Violante Two for the two prior decades. Violante Two referred to Janeen Violante and her husband, Joseph, who does not currently work for the company.
Violante changed her focus from packaging graphics to graphic design for clients when she opened her business out of her home.
"It cuts down on the overhead extremely," she explained. "We say that we offer New York City design for a Hudson Valley price tag. So we are able to do that because we all work out of our homes."
Violante provided graphics for corporations for many years. One of her most notable efforts was the design of the Pepsi-Cola can that was used in the early 1990s.
"When I had my kids I started to accumulate local businesses," Violante said. "The beauty of working locally is I get to sit down with my clients face to face and I get to be their go to person."
Most of Violante's clients come from Westchester County, although there are clients from throughout the tri-state area.
The company designs a wide variety of items, including logos, websites, brochures, mailers and business cards. "We brand the company," Violante said. "We give them a logo and a branded look and feel."
Violante's company has a varied array of companies and individuals as clients, including a health coach, a wine and spirits store, an energy group and a doctor, to name a few.
Aside from attracting clients through word of mouth, Hudson Valley Graphic Design uses a variety of social media, including a blog Violante writes.
There are pros and cons from working out of her home, Violante said. "It's hard to step away because you're immersed in it," Violante said, but added, she can work when she wants. 'I like it because there's so much flexibility."
Hudson Valley Graphic Design began providing marketing services through the efforts of Tricia Robbins beginning last year. "We have teamed up with a seasoned marketing and PR professional and now we offer clients strategic branding combined with innovative marketing," Violante said. "We are branching out."
"We love helping people brand themselves," Violante added. "We love brining our experience to the table. We love to help small businesses really brand themselves like the big guys."
For more information about Hudson Valley Graphic Design, call 914-582-9353, visit hudsonvalleygraphics.com or send an e-mail to info@hudsonvalleygraphic.