Business Profile: Home Green Advantage, Armonk
We are part of The Trust Project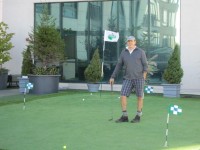 Building the ultimate backyard golf green is what Michael Lehrer has been doing since 1995, satisfying the desires of the golf enthusiast, the corporate executive who wants to practice his or her swing or helping homeowners increase the value of their property.
It's an unusual business, to be sure. When people think of golf greens, most are likely to picture larger courses. But a home green, with tee boxes and even sand traps, is often off the radar.
Curiously enough, Lehrer, a New Jersey native, never cared for the sport growing up. Only after a neighbor asked if he would accompany him to some of the area's local golf courses did he take a real interest.
"I became obsessed with it after that," Lehrer said.
In his Armonk home, Lehrer, an avid collector, has lots of golf memorabilia hanging from the walls, including a large collection of clubs, some dating to the 1920s, and prints showing the sport's origins in America.
But it is his company, Home Green Advantage, where his real passion lies. Installing two greens, a sand trap and several tee boxes on his two-acre property was the project that started it all.
Originally a CPA, Lehrer temporarily maintained his accounting practice until the business took off. It was almost an immediate success, as he secured local clients throughout Westchester.
"Owning your own personal putting green affords you the luxury of practicing your short game whenever you desire," explained Lehrer. "If you're a serious golfer, HGA can create a custom golf green for you, with multiple tee shots in various locations around your property for an added challenge."
In addition to offering years of enjoyment, it's also a great way to improve one's game without driving long distances to a golf range, he noted.
Since establishing the company, Lehrer has worked on hundreds of projects that have included large-scale putting greens and even par 3s for the palatial property owner. He has also built smaller, more practical greens that can be laid out in a space as small as a few hundred square feet. He has even installed them in basements.
But creating a putting green, golf green, tee line or larger course is no small job. An average green might cost between $15,000 and $20,000 and take up to a week to install, while smaller jobs cost less.
Lehrer, who said he has a natural affinity for building things, was quick at the start to bring in professionals familiar with golf green installation, including shapers, turf experts, irrigation specialists, architects and landscapers with experience on larger projects.
The actual construction is what Lehrer described as the "heavy duty" part of his work. While he sometimes rents machinery or may hire a labor-ready company to help with jobs in other states, Lehrer does much of the work himself, treating each client as though he was installing the green on his own property. Lehrer currently owns several pieces of machinery that he uses regularly.
"You know, a lot of people might think this is like laying down a piece of carpet," said Lehrer. "But it's not like that at all. In fact, this business is like any other trade, one that requires an incredible amount of skill."
In addition to the many residential projects Lehrer has completed, some of which include rooftop greens in Manhattan, he has created greens for commercial clients, such as the Metropolitan Golf Association in Elmsford and the Golf Club at Manhattan's Chelsea Piers. He also built a golf green at Fox News headquarters in New York City and at indoor training facilities throughout the metropolitan area.
In the past few years, Lehrer has been involved in various promotional events, building greens of various sizes for fundraisers, silent auctions, hole-in-one contests, product launches and trade shows.
Some of his past projects include the construction of a green for the St. Andrew's Golf Club Annual Gala at the Waldorf Astoria, a special hole-in-one challenge for a Wall Street firm and setting up small greens for TV show segments, including the Today show. Additional projects have included playgrounds, outdoor play areas for dogs and doggie day-care facilities.
To find out more about Home Green Advantage, call 800-788-8889 for a free consultation or visit www.homegreenadvantage.com.
Colette Connolly is a copywriter and p.r. expert. She owns Connolly Communications, which is based in Bronxville, New York. Colette specializes in providing content-rich, SEO-optimized press releases, articles, newsletters, brochures, and customer success stories.