Business Profile: Hickory Hill Ice Dance Program, Katonah
We are part of The Trust Project
While many folks sleep late or enjoy leisurely breakfasts on Sunday mornings, a group in Katonah has more energetic plans in mind.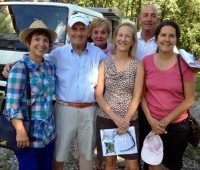 The Hickory Hill Ice Dance Program, which is part of the Hickory Hill Figure Skating Club, meets from 9:30 to 11:30 a.m. each Sunday at the Harvey School ice rink under the tutelage of experienced ice dance coaches and former Olympic champions.
The skating program attracts participants of all ages, from high school students to people in their 70s. Nine-session classes are offered four times a year, beginning in September and ending in July.
The club, founded in 1970 shortly after the construction of the rink by local families, is also a place for children to take figure skating classes.
Camille Cannistraci, Jason Crawford and Mary Farley are longtime participants in the ice dance program with varying levels of expertise. But all enjoy the camaraderie and the health benefits it offers and regard the program and the Harvey School ice rink to be one of Westchester's best kept secrets. Students come from all over Westchester County, with a few traveling from New York City and Hartford.
Ice dancing for adults has become a popular recreational activity. While its origins lie in ballroom dancing, there are some significant differences, including a ban on throws, lifts and jumps.
The purpose is to work on basic skating skills, Farley explained. The program's goal is to apply those skills to dances that participants learn, including foxtrots, swing dances and tangos.
Students learn maneuvers in what is known as "set patterns," which must be mastered in sequence, Farley said. The pattern dances include basic and standard ice dance steps, which can  be done at the competitive or social level.
The first dance participants learn is the Dutch waltz, comprised of forward steps. Other dances, such as the tango and the blues, include more complicated steps. However, all are designed so dancers skate in a counter-clockwise fashion.
For Cannistraci, who skated as a child, the opportunity to get back on the ice has been a thrill. Also, the non-competitive nature of the club has kept her going.
"I like the fact that it doesn't have a super serious atmosphere," she said.
"Everybody kind of piggybacks off everyone else's skills, which makes it very social," added Farley, who returned to the ice after a 35-year absence.
Crawford, the most accomplished of the trio, is happy to pass along skating skills he learned playing hockey and as a competitive figure skater. The program also has enough physical fitness for former hockey players, he said.
"What most people don't realize, however, is that you have to work really hard but not look like you're working hard," said Crawford, who works for IBM's research division in Yorktown.
Farley, a business affairs manager at Kunhardt McGee Productions in Pleasantville, said the two-hour classes provide a good workout, referring to the muscle strength, increased balance control, improved reflexes and agility and increased brain function that is required of participants.
"For me it's about learning to skate well, but it's also about the challenge of getting fit," added Cannistraci, a marketing manager at IBM in  Somers.
Ice dance coaches Eve Chalom, Kristen Fraser, Matthew Gates, Melissa Gregory, Igor Lukanin, Denis Petrukov, Alex Shakalov and Oleg Voiko prefer to coach less experienced skaters. That way there are no bad habits to break.
"Even if you are a beginner, to get lessons from such quality coaches is a huge plus," Farley said.
"Whether you make progress or not, it sets the tone for your day both in terms of your mind and your body; it's just very invigorating," Cannistraci said.
New students are welcome. No prior experience or skill level is required. For more information, visit the program's website. The Harvey School rink is located at 260 Jay Street in Katonah.