Business Profile: Harrison's McKisses Features Hot Designer Accessories, Clothes
We are part of The Trust Project
By Jon Craig
McKisses is offering the cachet of Midtown Manhattan in Downtown Harrison.
The new accessories store opened last month at 159 Halstead Ave.
Bathing suits and various spring wear are the store's newest feature. The shop, owned by Marcello Cajamarca of Mamaroneck, has been an instant hit among local teenagers and college students.
Colorful purses by Gucci, Michael Kors, Coach, Ruby and other top designers are currently on sale. McKisses also sells sunglasses, bracelets, belts, headbands, nail polish, cellphone cases and jewelry.
Marisol Calderone, the store's manager, said that by mid-May the store will be stocking more dresses, beachwear and shorts for summer use.
While showing off a pair of Anna footwear, Calderone said, "I think the girls will love these shoes.
Other popular shoes currently in stock include Nature Breeze, Eye Candie, Lilianna Forever and the I Heart collection.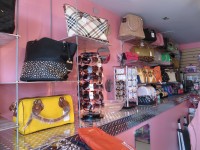 As business picks up, Calderone said the store will add more designer lines, seasonally appropriate clothing and newly released accessories.
McKisses is Cajamarca's second business near the Sound Shore. He also owns B & E Iron Works in Mamaroneck, a family business in operation since 1996.
Cajamarca said that he was able to open a shop offering trendy, seasonal items because of his steady success supplying homeowners, commercial customers and construction companies with handcrafted railings and other wrought iron fabrications from his specialty metal shop at 324 Northrup Ave., Mamaroneck.
McKisses is open six-days-a-week: 10:30 a.m. to 6 p.m. on Tuesday and Wednesday; 10 a.m. to 7 p.m. on Thursday and Friday; 10 a.m. to 8 p.m. on Saturday; and from 11 a.m. to 6 p.m. on Sunday.