Business Profile: Golden Vision, Yorktown
We are part of The Trust Project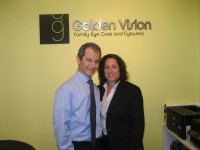 Briarcliff residents Lauren Golden and Dr. Andrew Golden opened Golden Vision on Downing Drive in Yorktown about two months ago after completion of a major renovation of their space.
"It was pretty much an empty shell when we got here," Lauren Golden recalled last week. "It's a great location."
"It's a busy strip," Dr. Golden said, referring to the shopping center.
Golden Vision was previously located in the Jefferson Valley Mall.
The renovated store is hardly an empty shell now. The store is decorated with a golden theme featuring golden painted walls and golden lollypops. The logo is a pair of eyeglasses turned sideways to for the letter g.  "I just loved doing that," Lauren Golden said, referring to the interior design of the store.
Lauren Golden was responsible for the ideas for the interior look and she designs the front window of the store. The current theme is Halloween featuring figures from "The Munsters" 1960's television series.
"We wanted to make it a very homey, happy place," she said.
The couple met as students and the State University of New York in Binghamton.
"I was actually an art major," said Lauren Golden, who is an attorney practicing real estate law in Manhattan.  She often helps customers pick out eyeglasses and sunglasses on the weekends. "I give them my honest opinion.I never sit down. Everybody always makes fun of me. There's always something to do."
"Her claim to fame seems to be she hands out popcorn on Saturday and Sundays," Dr. Golden said.
One of the features of the store is its large supply of contact lenses, where patients try on in a room set up for that purpose. Dr. Golden said contact lens fittings are one of his specialties.
Dr. Golden, who is an optometrist, particularly enjoys working with children. The key is "to get on their wave length," he said. "I can relate to kids. I don't know why but I do."
"There's such great frames for kids now," Lauren. Golden said, stressing that the store offers a greater selections of children's eyeglasses and sunglasses than a typical store does.
Dr. Golden devotes much of his time to volunteer work. "I've been on 18 different local, international and national missions where you go and you bring eye care to people," he said. He has gone to Mexico on many occasions to volunteer. "I love it," he said.
For several summers Dr. Golden has provided free eye care to youths who participate in a Fresh Air Fund program in Fishkill. "I'll spend the week there. We'll examine 1,200 kids," he said, adding that free eyeglasses are provided as part of his volunteer efforts.
Why did Dr. Golden, who has been an optician for 24 years, become an eye doctor? "I said I wanted to be a doctor. I don't like blood. I don't like putting my hands in people's mouths and I don't like feet, so it really left me with one thing," he quipped. "I love this career. I really enjoy what I do."
Golden Vision is located at 372 Downing Dr. in Yorktown. For more information, call 914-302-7800 or send an e-mail to goldenvision44@gmail.com.