Business Profile: GNC, Cortlandt Town Center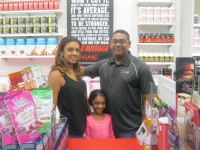 Ricky Jaisingh has been associated with General Nutrition Centers for many years.
He started his career working in the corporate of side of GNC for over 15 years. He started as a sales associate and within a year became an assistant manager, then later became a manager. He eventually became the regional sales director for upper Manhattan, the Bronx, Westchester and Connecticut, a position he held for six years.
Earlier this year his association with GNC took a new direction – he opened his own store in the Cortlandt Town Center shopping center. A formal grand opening was held in early June for the store, which opened its doors on May 3.
"I'm an entrepreneur. I love what I do," he said. "I love interacting with the customers."
Jaisingh said he is especially gratified when his customers come back to the store "thanking you for making a difference in their lives. That's what it's about. And it brings tears to my eyes because it touches the heart."
He said he wanted to open the store with his wife, Yasmin, because he believed in the mission of GNC to help people live healthier lives.
Currently living in the Bronx, Jaisingh said he is planning to eventually move the family to the northern Westchester area.
Jaisingh said he and his wife chose the Cortlandt Town Center "because it's a great community and this is one of the most dominant shopping centers in Westchester."
GNC offers a wide variety of products including vitamins and herbal and sports supplements that can be used to help "weekend warriors" reach their goals, Jaisingh said.
"A lot of people are health conscious now." Jaisingh said, noting GNC's products are "a healthy alternative" to medicines because they have no side effects.
Most people need nutritional supplements and vitamins "to live a healthy lifestyle" because they do not eat enough fruits and vegetables, Jaisingh said. Many GNC products "fill those missing gaps," he said. "I think 70 percent of Americans do not get enough nutrients from the food they are consuming."
Aside from vitamins and supplements, some of the other items sold at GNC include dietary products, meal replacement bars, gluten-free products and protein powders.
Jaisingh said his customers should not take his store's products, without advice from their doctors. "We can't prescribe or recommend anything. We can only suggest," he said.
GNC has been constant in its mission for its customers, which is "helping people to achieve their goals to live a healthy lifestyle," he said.
The Cortlandt GNC is located in the Cortlandt Town Center, 3141 E. Main St. For more information call 914-603-3370.