Business Profile: Fulgum's Bar and Grill, Montrose
We are part of The Trust Project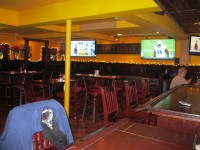 Bruce Fulgum took a chance when he left his job with IBM to open Fulgum's Bar and Grill in Montrose 33 years ago. His gamble paid off as it has become a local institution.
"People say it's like Cheers. It's just a great local bar," Bruce said last week. "If 100 people came in, we'd know 80 of them."
Fulgum is the owner and his sons Jon and Chris manage the eatery. The family all live in Montrose and they are graduates of Hendrick Hudson High School, which is a short walk away from the eatery.
Some of the keys to the success of Fulgum's are its customer service and local ownership, Fulgum said. "If I wasn't from the area I don't think this place would have been that successful," he said.
Fulgum said his late grandfather, Charles Reilly, owned bars and restaurants from New York City up to Montrose since Prohibition. Reilly opened a small bar in Montrose in 1943 by the old Montrose railroad station named Reilly's Station Bar and Grill, Fulgum noted.
"I was always around the business," he recalled, adding he began working in the establishment in his late teens.
As an adult, Fulgum did not immediately follow in his grandfather's footsteps. Following his graduation from college he was a teacher and then became an IBM employee. He explained he decided to open Fulgum's in 1983 after the Albany Post Road building became vacant. The structure had five previous owners over a seven-year period, he said.
"It was very scary" to change professions, he said.
The Fulgum family has put on two additions to the bar and grill, which is now about 2,500 square feet. High tables were introduced to the bar and restaurant eight months ago to provide a more laid back feel, Jon Fulgum noted.
Fulgum's hosts several private parties for such occasions as birthdays, anniversaries and class reunions. Fulgum's also offers a variety of food specials, including prime rib night on Wednesdays, which includes a baked potato and a vegetable for $17.95. Tuesday is $2 taco and Coors Light beer night and chicken wings are 50 cents each on Monday nights and 25 cents apiece on Sundays. Burgers and wraps are among the most popular items, Jon said.
Jon said a particular emphasis of Fulgum's for the past roughly four years has been to stress food, which has attracted new customers. Many more customers have patronized Fulgum's over the past year because of the food, he said.
The establishment features 11 flat screens televisions, which can offer different NFL and Major League Baseball games at one time.
Local bands provide live music on nearly every Saturday night, which is not common for other local bars, Jon said. .
Bruce, who is a member of the Hendrick Hudson High School Sports Hall of Fame as a basketball player, said it is important for the family to be involved in the local community. "We're involved in a lot of the community affairs and high school affairs," he said. "It's great for business and there's a great camaraderie."
Jon agreed with his father. "It's a small town. It's a tight community. So we had to get involved as much as we can," he said.
Fulgum's Bar and Grill is located at 2151 Albany Post Rd. in Montrose. For more information call 914-737-0172 or visit fulgums.com.