Business Profile: Empire Performance Physical Therapy, Carmel
We are part of The Trust Project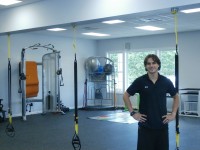 When Tony Tanzi was an athlete growing up in Mahopac, anytime he suffered a injury, usually a minor one, he looked forward to going to his physical therapists, knowing it was one step closer to getting back on the playing field.
Now, Tanzi wants to provide that same service to injured athletes looking to recover and get back to their respective sport as soon as possible.
"Just to know that that's my goal, I'm trying to get you back as quickly as possible," Tanzi said. "I'm not trying to have you in here for three months coming three times a week. The fewer visits you're in here, the better."
At Empire Performance Physical Therapy, Tanzi prides himself on making sure when clients walk in, they're getting an experience they can't find anywhere else. Opened for a week, Tanzi's new business draws from his experience as an athlete for most of his life and his education that includes a doctorate in physical therapy.
While many physical therapy places can be about riding a stationary bike for 15 minutes and then getting a hot pack for another 15 minutes, Tanzi implements a more involved process.
"We take a functional approach to how we do things," Tanzi said. "If you're walking in here there's no reason you shouldn't be able to do exercises on your feet. We're very hands on approach, we're very manual approach."
Tanzi, a Mahopac High School graduate, has an extensive list of athletic achievements. He was a high school lacrosse all-American in 2004 and a Division I lacrosse scholar all-American in 2008. He was even drafted by the Boston Cannons, a professional lacrosse team. He is also a five-time Ironman finisher. In high school, he was the first Mahopac student in 30 years to compete at the New York State Championships as an indoor track runner.
Tanzi started thinking about opening his own business in December when he was at another job. After looking around to different jobs in the region, he realized he wanted to operate and teach differently than where he was and what other places were offering. In order to do so, it meant running his own business.
Tanzi offers state of the art equipment in a new building along Route 6 in Carmel that was constructed within the past year. The new equipment in the new building certainly fits with the new approach Tanzi wants to offer clients.
"I'd like to think mine is different, that's why I opened it," Tanzi said. "If I was opening a place that looked similar to a place down the street, I don't know what kind of a business model that would promote.
Empire Performance Physical Therapy is located at 1611 Route 6, Carmel and its number is 845-225-2000.