Business Profile: DT Vapor & Smoke, Cortlandt
We are part of The Trust Project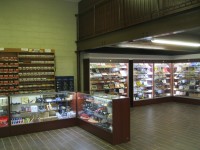 A new store in Cortlandt is offering both traditional and new ways to smoke.
DT Vapor & Smoke sells organic cigarettes and tobacco, cigars and new vapor cigarettes.
Cortlandt resident Tom Doan is the owner of the establishment, which opened in late September. .Another Cortlandt resident, Tracey Cong, is the store manager.
Cong said vapor cigarettes, also known as e-cigarettes, are new smoking option.
"Everything is natural and fresh" when it comes to the pipe and cigarette tobacco, cigars and cigarettes offered at DT Vapor & Smoke, Cong said., adding most of the tobacco comes from North Carolina.
Cong said the owner chose the East Main Street location because "in this side of town we have no tobacco store like this" The new store has attracted patrons from Cortlandt, Yorktown, Croton and Putnam County.
Doan owns another smoke shop, DT Tobacco Shop, in Mahopac.
The building housing the new store was formerly a Sleepy's store. Cong said it was not very difficult to renovate the building, with the main work being repainting.
Business has been positive so far and the vapor cigarettes have been a popular item, Cong said. Vapor cigarettes are "better than regular cigarettes because there are less chemicals and no tar," she said, adding later, "The tar will kill people."
Users of vapor cigarettes can begin with nicotine, but can reduce the use of nicotine and then eventually have the cigarettes with no nicotine, Cong said, adding the people often use them as a way to end their smoking habit.
The vapor cigarettes come in several flavors, including various fruit flavors. The store features a vapor cigarette tasting bar, Cong said. "They can taste the flavor they like." There are no health difficulties related to vapor cigarettes, she said, adding there is no second hand smoke from them. "Second hand smoking is killing people; (with) this one you don't have to worry," she said.
The store offers a wide variety of cigars, which are stored in a state-of-the-art of the art cases with humidifiers to keep them moist, Cong said.
The regular cigarettes offered are all natural, Cong said. Using natural cigarettes and tobacco are one of the motivations for the owner to open his two stores, Cong said. "Tom is a smoker and once he tried the all natural tobacco and he smoked, he felt better," Cong said.
DT Vapor & Smoke + is located 2081 E. Main St. in Cortlandt. For more information, call 914-930-7689.