Business Profile: Diego's Deli, Mohegan Lake
For three years, chemistry and biology books are what a young Diego Sarmiento used to focus his attention on. Sarmiento, 33, was studying to become a doctor back then, in his home country of Ecuador.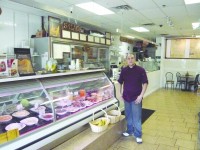 But a trip to the United States threw his life into a completely different direction. Now 15 years later, Sarmiento can call himself a business owner, in an area of expertise far from science books.
"When I got to this country, everything changed," Sarmiento said. "Started doing dishes and now opened my own place, that's the dream."
Sarmiento is the owner of Diego's Deli, BBQ and Catering, a new restaurant that opened August 8 and is located along Route 6 in Mohegan Lake. Diego's Deli, which is open seven days a week, boasts a menu that includes a various selection for breakfast, lunch and dinner.
The food served is extensive, featuring southern ribs and pulled pork, to cold cuts, sandwiches and salads. And all of it is home cooked, Sarmiento said.
"I want to do everything from scratch, not doing anything frozen," said Sarmiento, who speaks with a strong Ecuadorian accent.
Sarmiento's experience in the kitchen started off like many. Coming over to United States to visit his friends and cousins in New York City, Sarmiento got a job washing dishes for a restaurant. While doing his work, he watched others in the kitchen do their work, which was cooking and preparing food.
"When I came to this country I saw the chefs working, I started watching Food Network," Sarmiento said. "So I got into that."
Sarmiento estimates he worked at about 25 different delis and restaurant cooking all over Westchester and New York City, with his most recent and previous stint at Finnegan's Grill in Yorktown as a chef.
During that span, Sarmiento also took classes at culinary schools, like BOCES in Yorktown and Culinary Institute of America, one of the top culinary schools in New York. During that time, Sarmiento was also learning how to speak English.
Once Sarmiento made the decision to open his own place, he said it took about seven long months of putting it all together and getting the paperwork done. From previously working at another business along Route 6, Sarmiento knew that's where he wanted his business to open in.
Now, almost three weeks into Diego's Deli, Sarmiento loves the idea of being his own boss, even if he still does a lot of the grunt work. He still sweeps the floors, cooks the food, and washes dishes but the new wrinkle in his job is his ability to interact with the customers.
"That's the difference between being at a restaurant like at Finnegan's, I was there behind the kitchen," Sarmiento said. "Now I can talk to people."
And Sarmiento wants to hear from those customers, and try to accommodate them the best way possible. He doesn't want to say "no" to a customer. One way he believes he's different from other delis. "Customers first," Sarmiento said.
Sarmiento said the biggest challenge so far is depending on himself, rather than just being part of a larger staff. But that one arduous task outweighs other opportunities. Sarmiento shares more time with his family. His wife, Johanna, also works in the deli, having past restaurant experience as well. Their three children usually eat meals there, including a Sunday dinner.
And for a man who hopped to countless delis and restaurants since immigrating to the states, he finally has a place he can call his own, and he's happy to bring his passion for cooking to Yorktown.
"The American dream man," Sarmiento said.
Diego's Deli is open seven days a week from 7 a.m. to 8 p.m. Its address is 1859 East Main Street (Route 6), Mohegan Lake. The phone number is (914) 743-1680.
By David Propper