Business Profile: Darcy's Academy of Dance, Putnam Valley
We are part of The Trust Project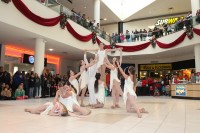 When you have a passion, people can see it. They gravitate towards you because they want it too.
Darcy Baia-Cohen of Mahopac has that passion for dance and for the past 20 years students have been flocking to her school Darcy's Academy of Dance in Putnam Valley to not only learn the skills that one needs to dance but to be in the presence of someone who is driven to succeed.
Baia-Cohen started dancing at the age of 2, with Madam Nina Sokolova in Larchmont. By 5-years-old she was already under contract to perform in the Sound of Music in the role of "Little Gretel" at the Elmsford Dinner Theater. Soon after, she was touring the United States with the dance company at Mimi Kellerman's Academy of Dance. As a teenager she studied and performed in Europe and then under the direction of Robert Rayow she started teaching others how to dance.
It was then that Baia-Cohen discovered her true calling.
"I enjoy being on this side of it more than performing, because I like teaching the girls and sharing my passion with them," Baia-Cohen said.
In 1993 she started Darcy's Academy of Dance and the school has grown beyond her wildest dreams. With over 300 students, Darcy's Academy of Dance offer a variety of classes including classical ballet training, cutting-edge hip-hop, theatrical performance, tap, jazz, modern, adult classes and acro-tumbling for dancers at every skill level.
The school can accommodate those students who want to take one class a week for fun or those who want to eat, breathe and sleep dance.
"We have a number of girls who train five to seven days a week because they love it that much," said Baia-Cohen. "We have had a number of students who go on to Boston Conservatory and Julliard. One of our students now works for a scouting agency for dancers, so we have a lot of girls who end up pursuing this is a career."
Darcy's Academy of Dance has earned a well-deserved reputation as one of New York's leading studios for instruction in the performing arts.
One of the ways that Baia-Cohen trains her students is by having them be in competitions. About one-third of her students participate in competitions and many are members of the invite-only academy company.
"We have award-winning students," said Baia-Cohen. "We go to numerous competitions throughout the year and we usually take first place in any competition we go to. We go prepared and compete with around 80 numbers."
The teams just recently competed in the On Stage America contest in New Jersey. At that competition Abigail Kelvas from Putnam Valley was named a Miss On Stage America Winner. In addition the academy's 10-14 year olds won top scoring in the Jazz category for their performance of Mein Herr and the competing team was given special recognition in the large group production category for its rendition of "Lion King."
Baia-Cohen, who is the academy's main choreographer, has won countless awards for excellence in choreography and received a special choreographers award at On Stage America.
In addition to competitions, the academy dancers will also be performing in the Center Court of Jefferson Valley Mall on Dec. 9 (1 – 2:30 p.m.) and Dec. 22 (11 a.m. to 1 p.m.).
She credits her success to being willing to grow and learn new styles as the times change and her loyal clients who have traveled the journey with her.
"It has been a long exciting journey," Baia-Cohen said. "A lot of my clients have become close friends of mine and it is wonderful to be able to do what you love and in the process make a difference in someone's lives."
Darcy's Academy of Dance, which is located at 17 Peekskill Hollow Road in Putnam Valley, has open enrollments and scheduled classes six days a week.
For more information, visit darcysacademyofdance.com or call 845-528-2200.