Business Profile: Daniel Jewelers Brewster
We are part of The Trust Project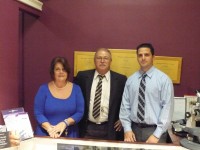 Donato Ruggiero, without hesitation, states a quarter-century of owning a jewelry business has gone by in a flash.
For 25 years, Daniel Jewelers has been a fixture in the Lower Hudson Valley. First in Pawling and now in its current and longest standing location in Brewster at the Lakeview Plaza Shopping Center. In business since 1988, Ruggiero has experienced it all.
We've come a long way after 25 years," Ruggiero said. "At times difficult, we've mostly managed throughout the years pretty much OK."
Ruggiero first started out in Pawling, but he's happy that Brewster is the place he can now call home. For a time, he was running both stores, going back and forth between the two. But as time passed, it became obvious that one location would be best.
Rent continued to climb at the Pawling spot, while Ruggiero said he liked the centralized location that the plaza had to offer. And it also helps that Ruggiero, a Brewster resident, is only four miles from home.
Regardless of location, Ruggiero said customers from all around continue to flock to his store. There are even some that have gone to Ruggiero since he opened up last century. And even some that moved far away from driving distance but still sent Daniel Jewelers items to fix and adjust.
We do have a very good relationship with all our customers," Ruggiero said. "And again they come from Pawling when we merged two stores everybody from Pawling was here."
"There was really no loss of customers from there," he added.
What draws the most customers is easily the custom work the store does each day.
And with plenty of shiny jewelry around the store, comes some interesting marriage proposal stories Ruggiero recalls.
One man took his future bride to the Marriot Hotel for dinner in New York City and at Times Square had an image of the two of them with the proposal at the bottom. Another man wanted to put the ring in a Chinese fortune cookie, an idea Ruggiero was unsure about since because he thought it could've gone in the wrong place.
He said a lot of his business is based off trust. And it's critical to cherish that trust once you earn it. With the amount of money that could be spent in a jewelry store, Ruggiero knows it's important that customers know what they're getting.
With the reputation Daniel Jewelers has at this point, it's no surprise plenty of people trust them. There's a reason he's been in business for 25 years. While the official anniversary is on Black Friday, Daniel Jewelers had his celebration and specials sales on Nov. 15.
And with his son Joseph now working for him full time, Ruggiero hopes Daniel Jewelers will move forward into the future.
"We're still here and we're still getting better everyday," Ruggiero said. "We're still learning new things and hopefully we'll be here at least another 25."
Caption: From left to right, Marge Bonci, owner Donato Ruggiero and his Joseph run Daniel Jewelers. Bonci has worked for Ruggiero for all 25 years.