Business Profile: CrossFit OSA, Fitness Redefined, Kent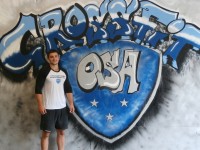 The difference Gary Sorrentino saw in his body after starting CrossFit was remarkable.
Always someone who used to exercise as a bodybuilder strictly lifting weights, Sorrentino was always strong and had the muscles to prove it. But when he started CrossFit in December 2010, he knew almost immediately this was how he wanted to stay in shape.
All of his strength numbers like weights on squatting or bench press were higher and he started to run a mile in under six minutes, something he couldn't sniff before CrossFit. Overall he was just more athletic and flexible. Now, Sorrentino is trying to get many other residents in Putnam County to have the physical renaissance he underwent with his own CrossFit gym in Kent called CrossFit OSA, Fitness Redefined. The gym, opened in September 2012, offers group classes and also one-on-one sessions.
CrossFit, which is a sort of workout that has exploded over the past couple of years, is a fitness program designed to improve strength, body composition, flexibility, and health and wellness. At Sorrentino's gym, staff takes on people of different walks of life daily, and each of them always seem to get something out of the unique training.
Sorrentino calls CrossFit a workout program for "everybody." The age range and the level of fitness people are in when they walk into CrossFit OSA vary.
The oldest person Sorrentino ever trained was a 75-year-old woman and the youngest was a 10-year-old boy. Some of the people that walk in are already in good shape, while some are looking to lose 20 or so pounds.
While CrossFit can be intimidating to start, Sorrentino said the improvement of his students is usually drastic. When they first come in, Sorrentino tries to convince them to let him videotape their workout and then a month later he shows them how much better they are than when they began.
"It's day and night," he said. "It's not even how they move when they're working out, it's how they carry themselves. They walk in here with their chest up and their chin up when they first came in here they were kind of slouched, looking down, barely making eye contact with anyone. It's just a complete lifestyle change."
Admittedly, most people believe CrossFit is a cult, Sorrentino said, where participants wear high shorts and colorful shorts and shoes. Many think it's a fad that will come and go, Sorrentino said, shaking his head.
Sorrentino, 24, at first wanted to open a supplement and vitamin shop, but he realized he wanted to have a more active role in a person's fight for a healthy life rather than just being a salesperson.
His location is somewhat secluded in Kent, but Sorrentino likes it because the space he has is huge and gym-goers can focus on the task at hand.
Sorrentino hopes to expand and open other locations, but for now his goal is break the misconceptions about CrossFit.
"If you find a good CrossFit gym with an owner who is passionate about it, I dare you to go six months and see if you don't see any results," he said. "I dare you."
CrossFit OSA, Fitness Redefined is located at 919 Route 52 in Kent. Look for the milk jugs at the entrance.