Business Profile: Community Cares, Mahopac
We are part of The Trust Project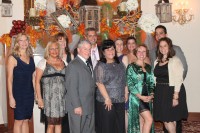 It is customary when a family in your neighborhood is going through a crisis that you offer help and comfort. Community Cares, a non-profit organization that serves families in Putnam and northern Westchester, provides support to families going through medical crisis and it was inspired by the experience of its founder Amy Sayegh. Sayegh, who lives in Mahopac with her husband John and their three children, was diagnosed with breast cancer in 2005.
While she was undergoing treatments, surgery, chemo and radiation, her friends, family and fellow church members helped her and her family continue on.
"They would take me to appointments or my children to their activities," said Sayegh. "They would bring us meals on the days they knew I just did not have the strength to do it. The love we were shown was just amazing."
Four years ago, Sayegh, who is now a breast cancer survivor, started Community Cares as her way of completing the circle of caring.
"We have become a true extension of the community we live in, providing meals, laundry and cleaning services to moms and dads who are in the fight of their lives while still raising their families and all that it entails," said Sayegh.
Community Cares is able to provide its services for free to its clients because of its network of volunteers and the businesses that willing to donate their services.
Each year Community Cares has held a gala to honor those who have embodied the organization's mission; those who strive to achieve excellence, generosity and giving back to the community, especially those who have struggles with sickness and disease.
About 250 people came out to support Community Cares and this year's honorees at the gala held on Thursday, Oct. 18 at Villa Barone. The event, which is also the organization's major fundraiser for the year, featured food, the sounds of the band Settin' the Record Straight and a wall lined with silent auction prizes. See photos from the gala here.
Community Cares recognized seven individuals for their efforts.
Krista Donahoe, a Mahopac educator who is currently battling cancer, was honored with the Point of Light Award for her constant devotion to volunteering within the community. Carmel Councilman Frank Lombardi, who shared the emcee responsibilities for the night with Hon. James Rietz, said "Despite everything that has gone on over the past year, Krista always has a smile on her face," while introducing her.
"I am very blessed, and I know that not everyone who goes through a serious illness has the kind of support my family and I had. That's why Community Cares is so amazing and important," said Donahoe.
"Community Cares is that support network for families who might not have one. Community Cares takes those day-today burdens of meals, laundry and house cleaning off of families with children right here in our own community that are dealing with a serious illness. I believe that this is a very special community that we live in; we take care of each other. Community Cares provides a framework for us to do that for families in medical crisis."
The Light of Hope Award, which is given to someone who has traveled the survivor's journey, was awarded to Elizabeth Bauerlein who has been fighting Non- Hodkins Lymphoma for six and a half years. Bauerlein was a friend of Sayegh long before the inception of Community Cares. In fact she was one of the Grace Lutheran church members who assisted Sayegh while she was going through her treatments.
John Velezis, owner of Four Brothers Restaurant and Pizza in Mahopac, was honored with the Light of Giving Award. Since 2008, Velezis has had Four Brothers be a restaurant supporter for Community Cares. The restaurant has provided countless meals to Community Care families.
"Four Brother's has become a family favorite for our Community Cares families and a bright spot for a mom on a difficult day of treatment," said Lombardi. "Coming home to a hot, prepared, delicious meal that the entire family loves is a blessing after a long day and provides time when the family can sit together and talk about the day."
Additionally Community Cares recognized the volunteer efforts of Dawn Brown of Xpress Printing, Patricia
Murray of Community Cares for Kids, photographer and designer Tabitha Pearson Marshall and Grace Pietrosanti of Sacred Heat Gifts and Apparel. Referring to each recipient as a "silent hero" the Community Cares Board of Directors wanted to honor the women's constant stream of support for the organization.
For more information about Community Cares visit www.CommunityCares.org or call
845-621-CARE.