Business Profile: Cold Spring Depot, Cold Spring
We are part of The Trust Project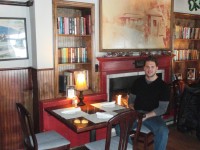 For dozens of years, Cold Spring Depot has been a destination for village residents who live right down the street, or out-of-towners seeking one of the most established eateries in the Lower Hudson Valley.
Cold Spring Depot's reputation even drew one of the United States' most prolific political couples to the restaurant, Bill and Hillary Clinton, on Valentine's Day of all days.
"I didn't even see the security (that does a check before the couple enters any location) so I just saw them walking in and I was like 'Hey' so that was interesting," new co-owner Greg Pagones said. "I shook their hands on the way out so that was pretty cool. I shook the president's hand and possibly the new president's hand so it was a really cool experience."
Hillary had a burger special from the Hudson Valley Cattle Company and Bill had the Jamaican Jerk Mahi-Mahi. Where the Clintons had their lunch is now considered the "presidents seat."
But even if the Clintons didn't dine at the local eatery recently, the Cold Spring Depot still has plenty to brag about, always drawing a crowd with a savory and wide ranging menu with a friendly staff and a new co-owner taking the reins.
When Pagones closed his former restaurant last May, he said he wasn't in a rush to jump back into the restaurant business unless a golden opportunity presented itself. Sure enough, it did. After one of the Cold Spring Depot owners, Stu Schetters, decided to depart from the business, the other co-owner Tom Rolston welcomed Pagones.
"This is a great situation, the location is
great, plus the staff has been here a long time," he said. "So you can only go up, you can't screw up around here."
"The opportunities are just endless around here so that's exciting," Pagones added.
Pagones admits that when a new guy like himself comes into a new restaurant, customers can be apprehensive because they enjoy the familiarity of a business that's been around more than 30 years. But he said the locals have welcome him warmly.
And while he doesn't plan on any wholesale changes, Pagones has tweaked and tinkered here and there to continue to improve the restaurant. He said before any changes, even slight ones are made, it's important to get acclimated with the restaurant, the food served and the staff that does the work.
"We're getting gradually a little more aggressive in our menu changes," Pagones said. "But it's still going to be comfort food, homemade, that's the most important thing to me."
The Cold Spring Depot is located at 1 Depot Square in Cold Spring and its number is 845-265-5000.