Business Profile: Brewster Shipping Center, Brewster
We are part of The Trust Project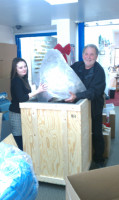 "We shipped an Alpine horn, it was 14 feet long. It was made in the 1800's. We shipped it to Canada," Erin Meagher, employee at Brewster Shipping Center, said.
"To Denmark," her boss, Richard Ruchala, owner of the store, corrects her.
"To Denmark," Meagher said. "We shipped it to Denmark."
"So that had to be packed—,"Ruchala begins.
"—In a 14 foot telescopic box that's usually used for golf clubs," Meagher finishes.
They talk of this particular shipping as they load an egg-shaped object, a chandelier wrapped in foam worth $8,000, according to Ruchala, into a custom-constructed wooden crate, lined on all inside surfaces with enough foam padding to make sure the delicate object will not crack or shatter on its journey.
"It's amazing the things we do that so many other people don't," Ruchala said. "We do so many things that other people won't even handle, because we understand what has to be done."
"We shipped an entire household full of goods to North Pole, Alaska in the middle of January," Mrs. Meagher said. "We had to put everything into a shipping container and send a truck all the way across Canada. We actually used ice road truckers, the Carlyle Trucking Group, to get it across Canada. We also sent a car battery, a replacement battery for a Prius, we crated it and sent it to Ghana. It got there in six days."
Meagher specializes in the shipments to foreign countries.
"I speak Spanish and French fluently," Meagher said. "I do all the customs paperwork. I handle all the clearing of customs, especially looking up international regulations on where to send things, which varies from country to country; especially with either documents, or with objects, such as the chandelier. Even something as simple as food is sometimes hard to ship into certain countries. But we always get it there."
Both Ruchala and Meagher are extensively and deeply involved with the community. Ruchala serves as the vice-chairman of the Putnam County Industrial Development Agency, the chairman of the zoning board for the Village of Brewster, and on the Brewster Education Foundation. Meagher is in the Rotary Club of Brewster, helped organize the Christmas tree lighting, serves as a trustee of the Landmarks Preservation Society of Southeast, and serves as the curator for the Town of Southeast Arts Coalition gallery.
"It's important. If you don't work with the community the community's not going to—"  Ruchala.
"—Work with you," Meagher said as she finished his sentence.
The community has been working with them.
According to Ruchala, business in 2012 was up 20 percent from the year before.
"It's a growing business," Ruchala said. "People are getting to know us and trust us with the higher end items, more specialty type stuff. We're getting a reputation for that; between the horse people and the art people."
"We do a lot of equestrian items," Mrs. Meagher said. "We also handle a lot of tennis stuff."
They are both true believers in the Village of Brewster, especially its Main Street.
"It's all happening on Main Street," Meagher said. "Brewster is really coming up. It's busy, it's walkable, it's friendly. You can do anything you want to do here and I think it's important people start to understand that. Things are happening here in the Village of Brewster."
Brewster Shipping Center offers shipping services via FedEx, DHL, and UPS, private mailboxes with 24 hour access, ground, air, and ocean freight, and advanced relocation services such as international moves. They sell boxes and bubble wrap, offer commercial and volume discount rates, help Ebay sellers configure shipping costs, and take part in Return the FAVOR, a discount program for veterans.
"One call ships it all," Meagher said. "Nothing's too big or too small. We can ship it around the corner or around the globe."
Brewster Shipping Center is located at 12 Main Street in the Village of Brewster. Phone: (845) 279-6633, online at www.brewstershipping.com.
 By Larry Miles